Hello All,
I hope you are having a nice Spring despite its slow arrival! I have been very busy finishing the work, with Cleo by my side, for my next show in Seattle opening May 2nd at Frederick Holmes & Company. At first, with the news of Cleo being diagnosed with two types of cancer, and a death in my family, I really didn't think I could create four 30" x 48" paintings with just two months to finish. But then, Cleo started doing well on her new diet and we reached a sort of "new normal".
So much has been going on for all of us it seems. I do appreciate you being a part of my community and taking the time to read my blog. My sidebar is updated with all kinds of resources and information. I recently did a soft launch of my Patreon page, a new subscription platform that I am trying out. Take a look and I hope you enjoy the post!
Inspirations
Aerial and satellite photography have become increased sources of visual inspiration for my work and Instagram has played a large role in that. I follow some of my favorites and am always discovering more. I encourage you to follow me to see even more progress. My IGTV channel allows you to a peek into my day to day.
The image on the right below is by Munich based photographer Tom Hegen, whose Instagram is mind blowing. The image on the left was taken from the International Space Station by astronaut Don Pettit. I love getting to see these images on a daily basis in my Instagram feed. I am so appreciative to the many of you who have reached out with links or images that remind you of my paintings. Thank you for all the added musings and for thinking of me.
Other resources that have contributed to this body of work are subscriptions to Atlas Obscura and the Artsy newsletter which is where I found both of the below images. I highly recommend both as resources for art world updates and all things curious and amazing to see and read about. Check out the links!
Progress of Divergence
The first five paintings were completed between February and November of 2018. During this time, I also did two big encaustic restoration projects, completed two commissions, taught studio workshops, traveled to DC, CT and NYC for three weeks to teach more workshops, participated in Portland Open Studios, managed an intern, taught several private workshops, shipped work out, then, went to Mexico to teach in January 2019. Phew! I know, I'm sure it's exhausting just reading all that, 2018 was a productive year!
The last four 30" x 48" pieces were completed between February and April of this year in time for my upcoming show Divergence. I am feeling really good about the work and am somewhat astonished that I was able to do it. Thanks to all of you for your support, kind words, patronage and guidance during this time, it has really helped.
The title of the show arose initially because each piece was so divergent. Below is the statement for the show that will be on the wall at the opening May 2nd at Frederick Holmes & Company in Seattle.
DIVERGENCE
This exhibit's title refers to diverging forces in the work itself, and with our changing climate and geopolitcal landscape. I work with encaustic, the ancient medium and oldest known pigment binder that combines natural beeswax, resin and pigment. Advances in technology have allowed me to combine this centuries old medium with inspiration from drone, aerial and satellite photography. The maleability of the encaustic medium has enabled me to develop techniques using irons and torches to trap air in the hot molten wax to build the surfaces and "terrains" of my paintings. Each piece evolves into its own detailed environment, through the alchemy of the materials. They are geologic as much as they are celestial, abstract and astronomical. My work expresses such dualities with the aim to bring forth the beauty, chaos and wonder inherent in our rapidly changing world.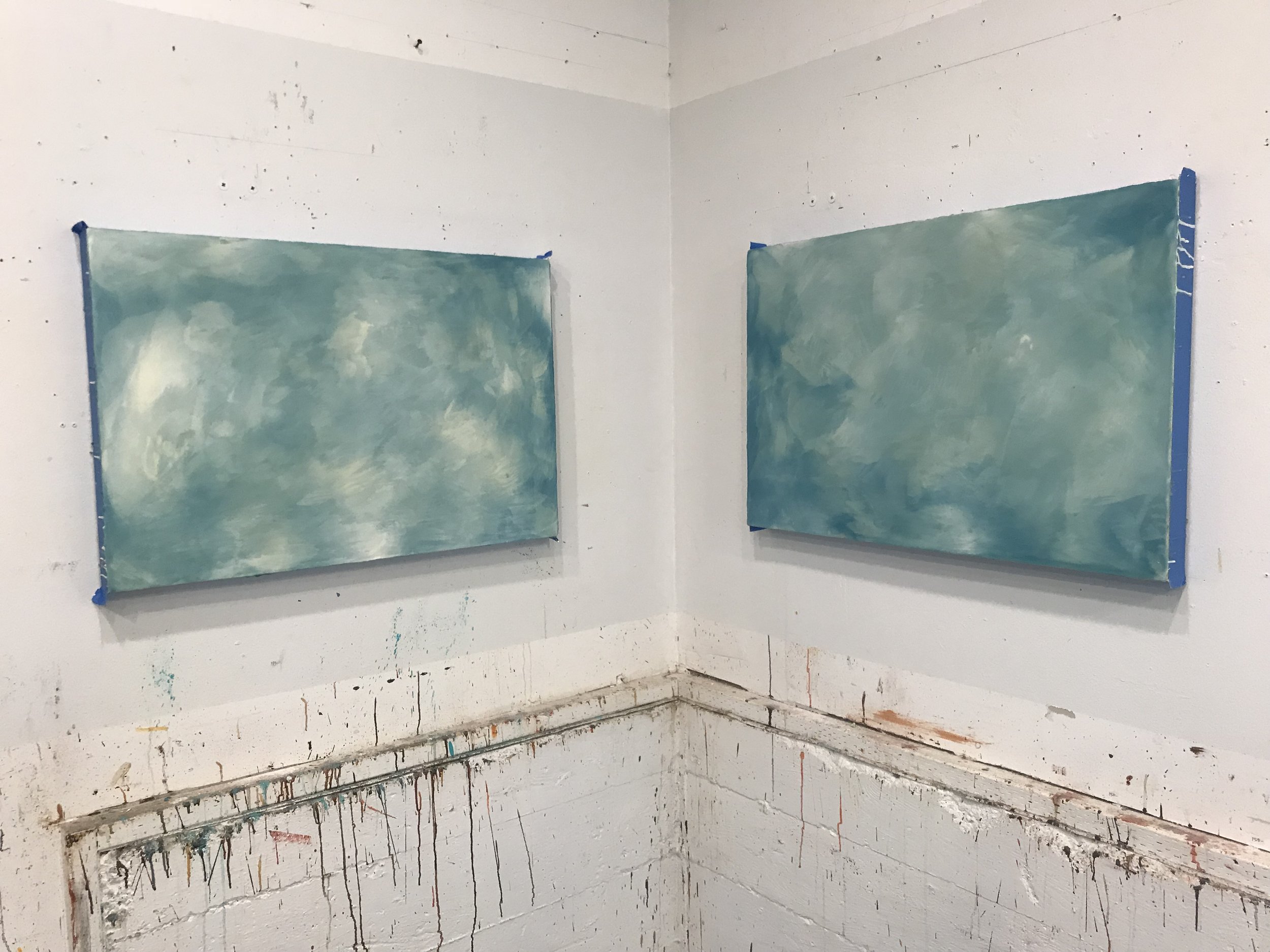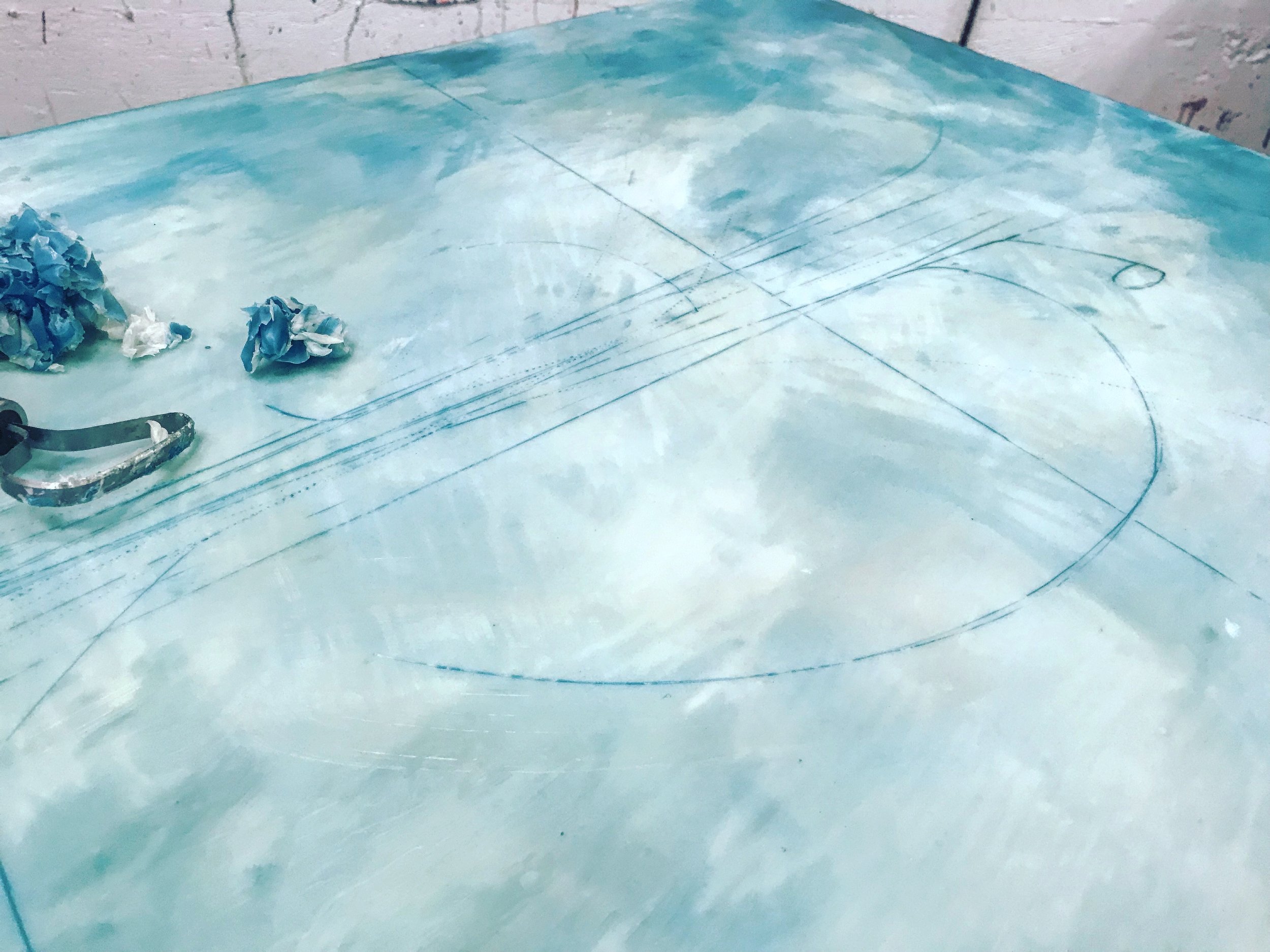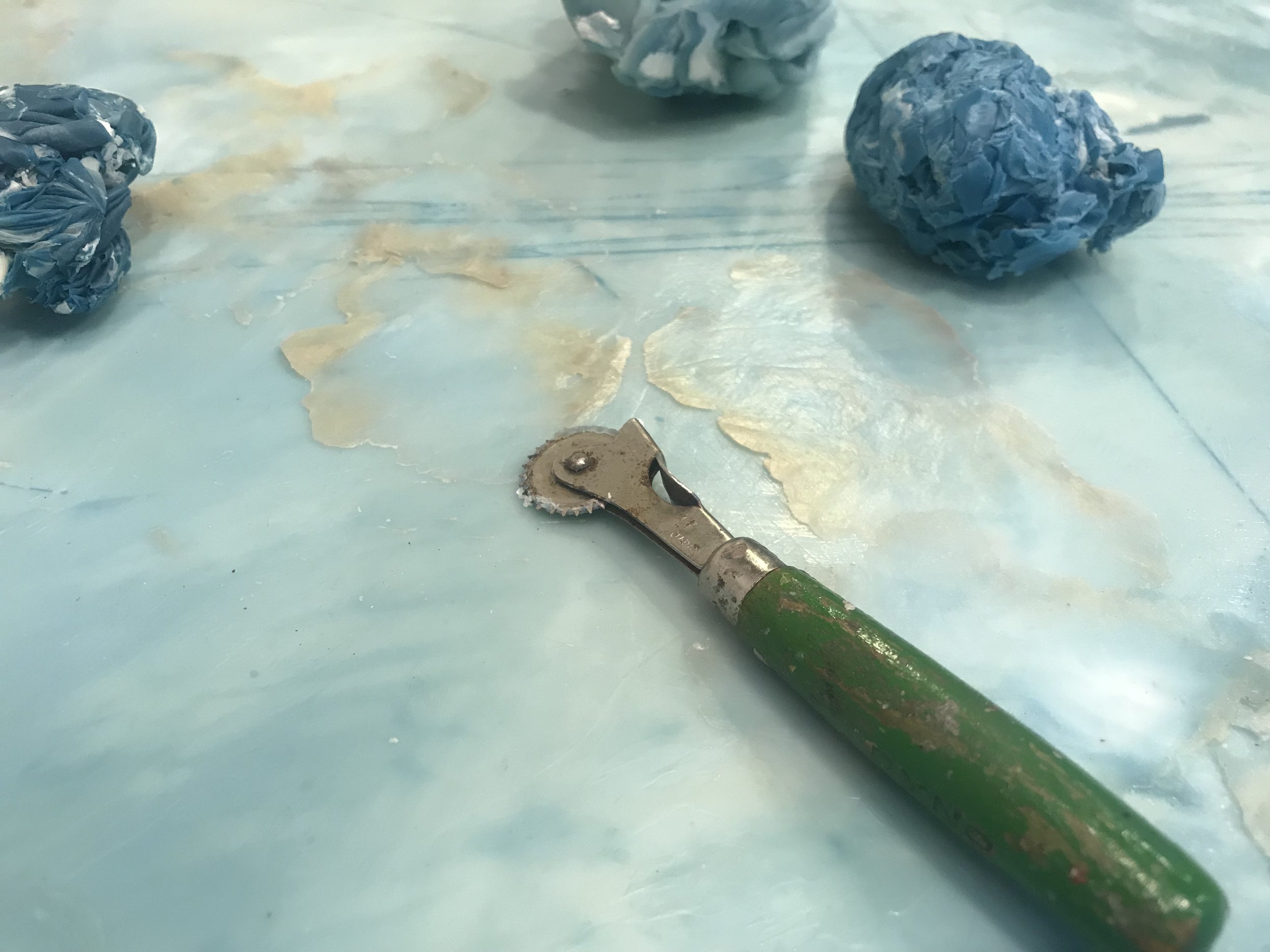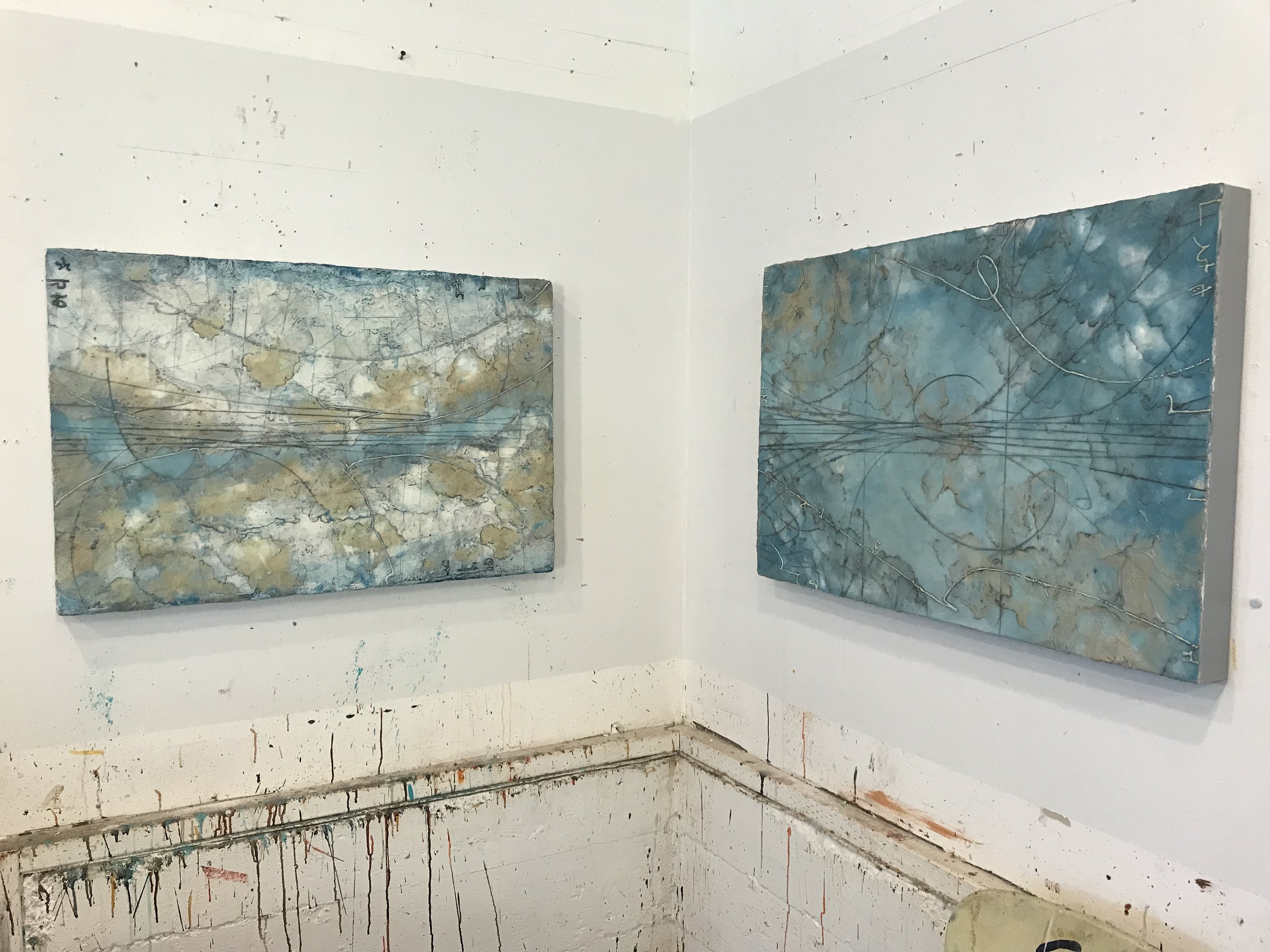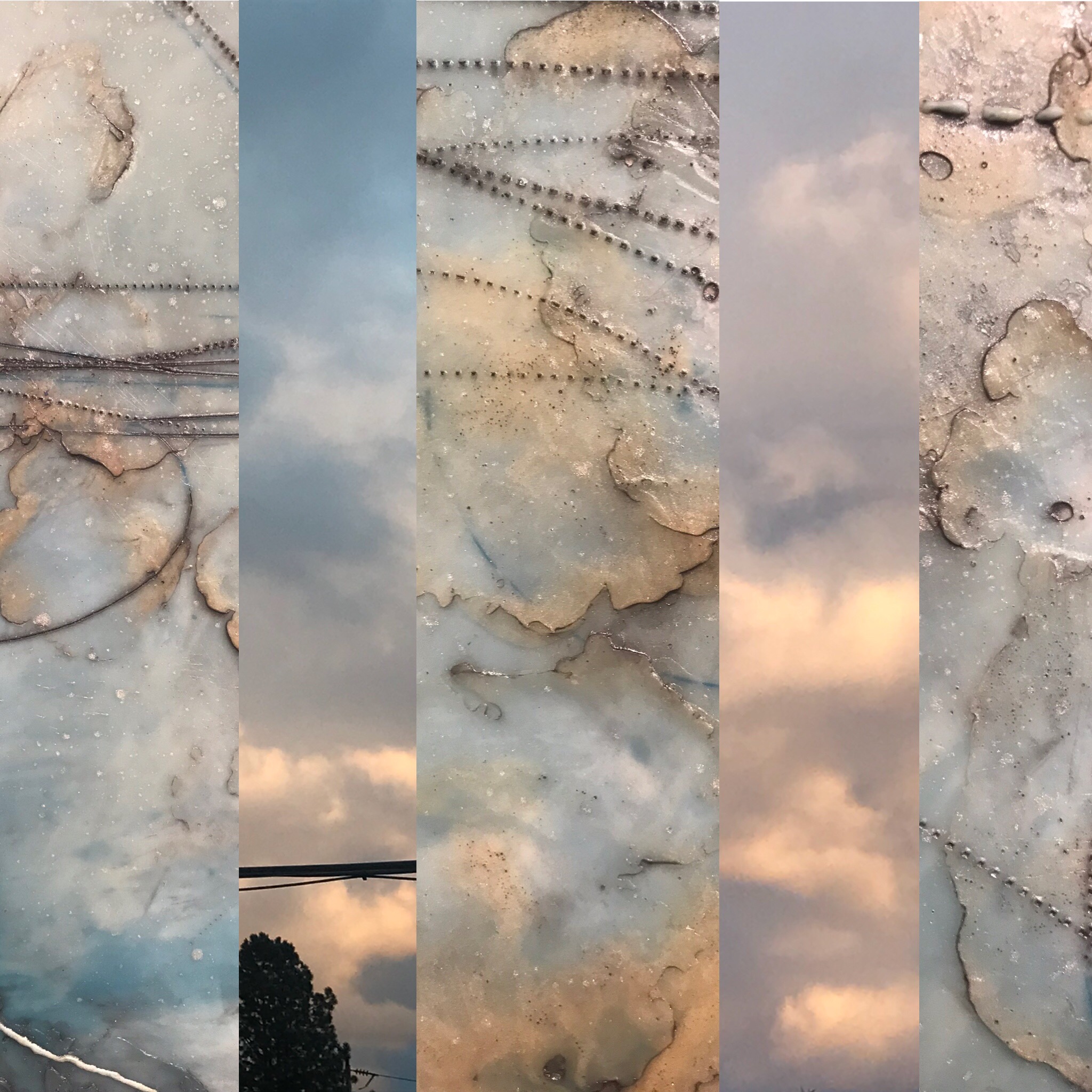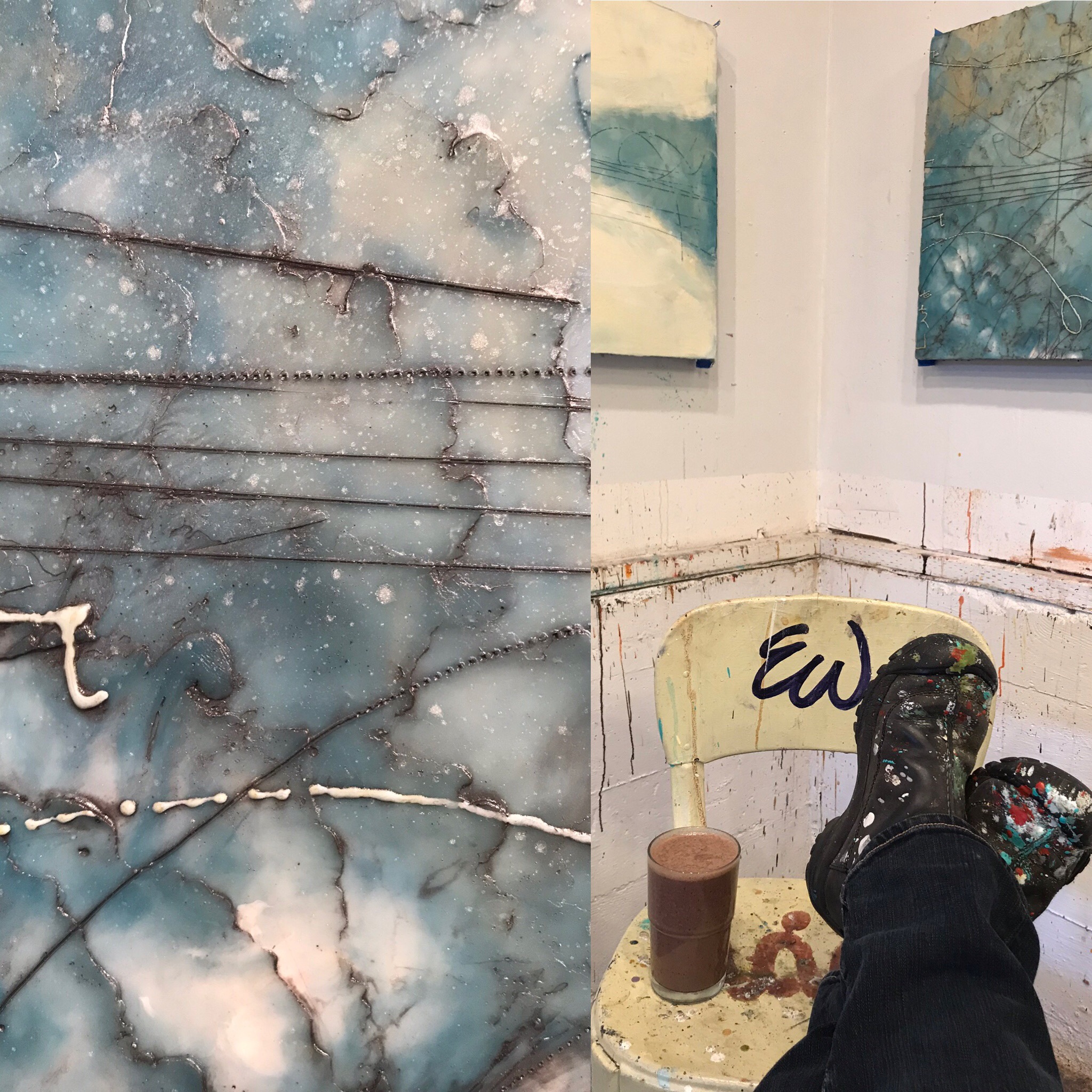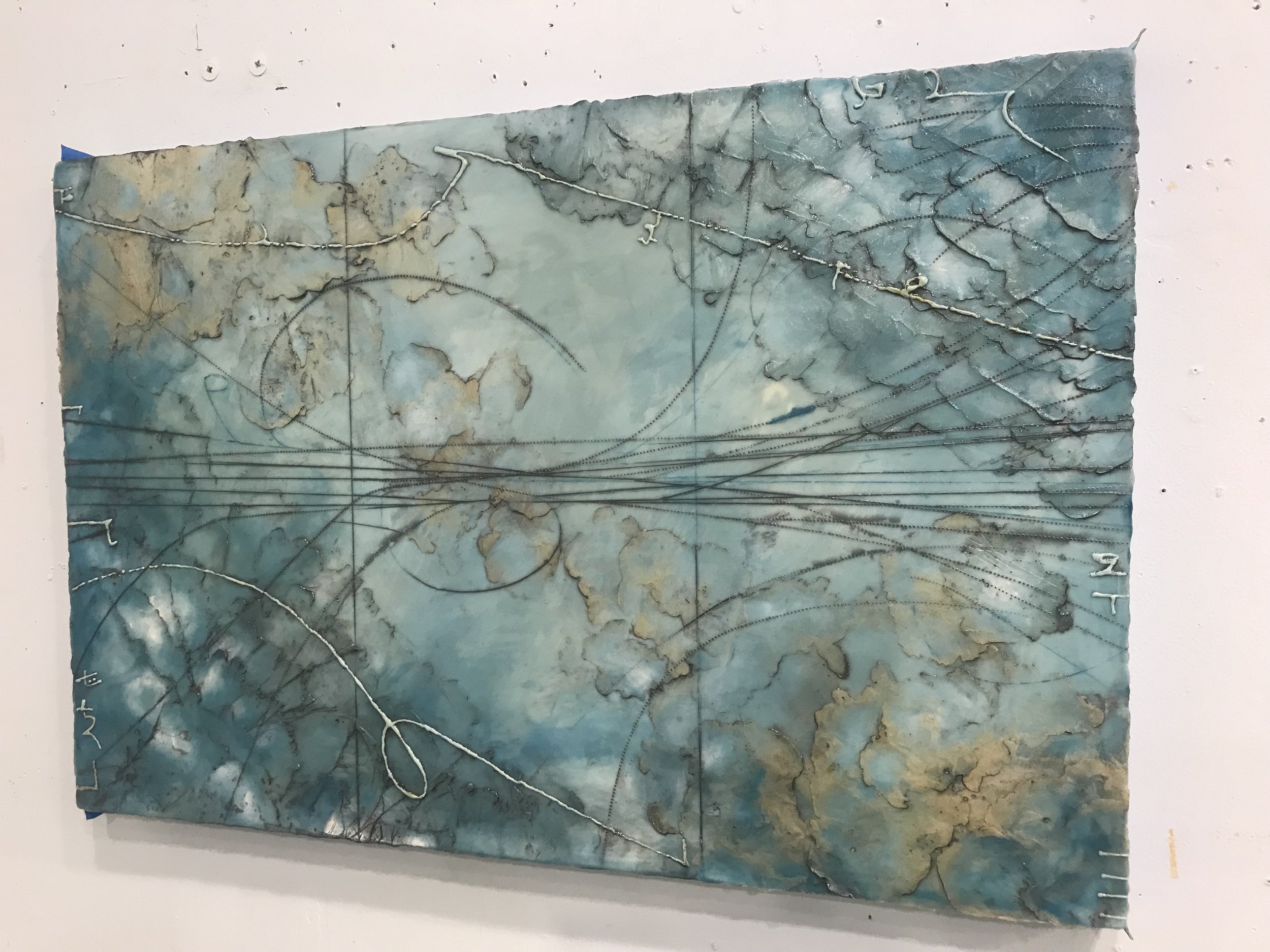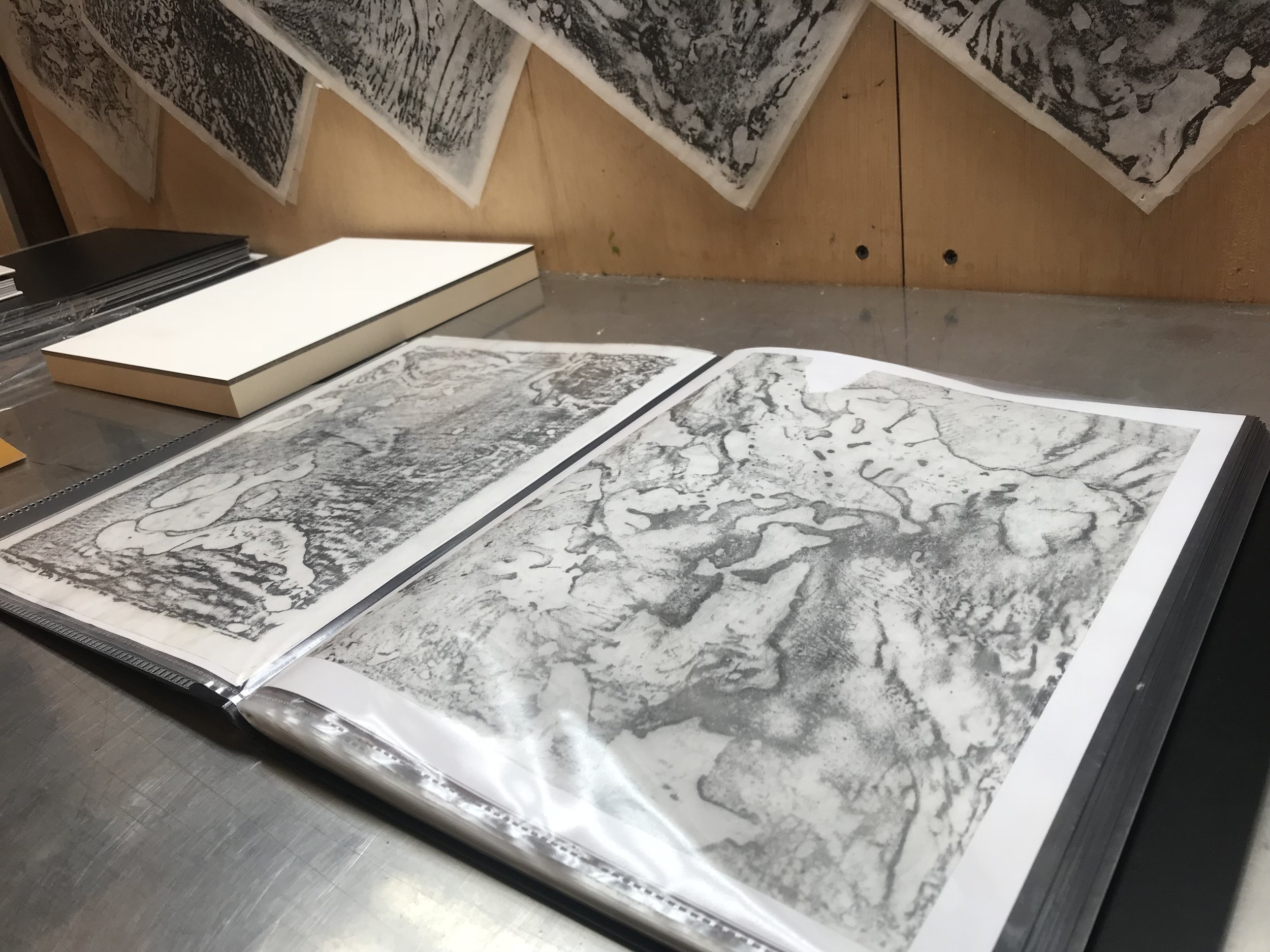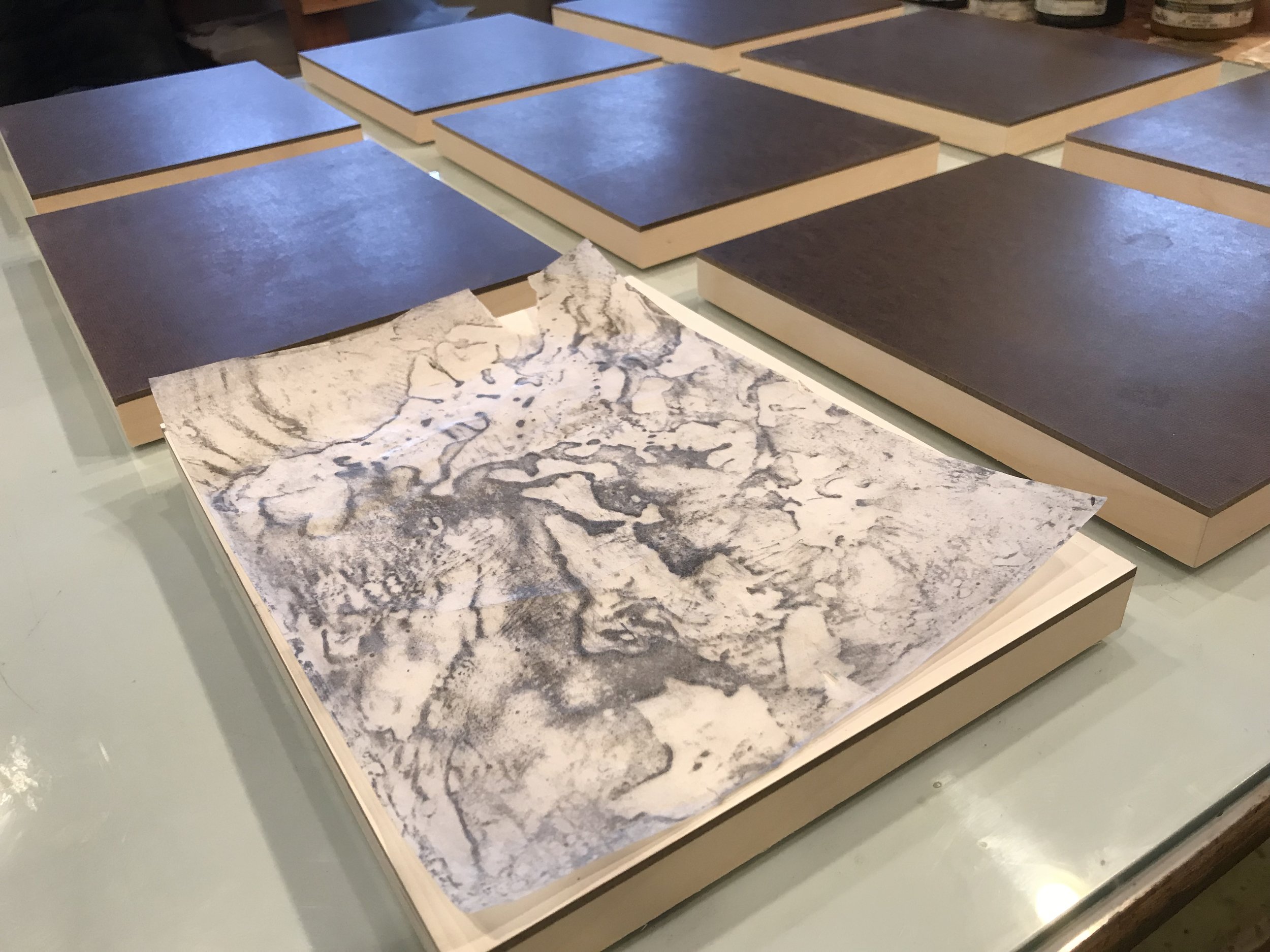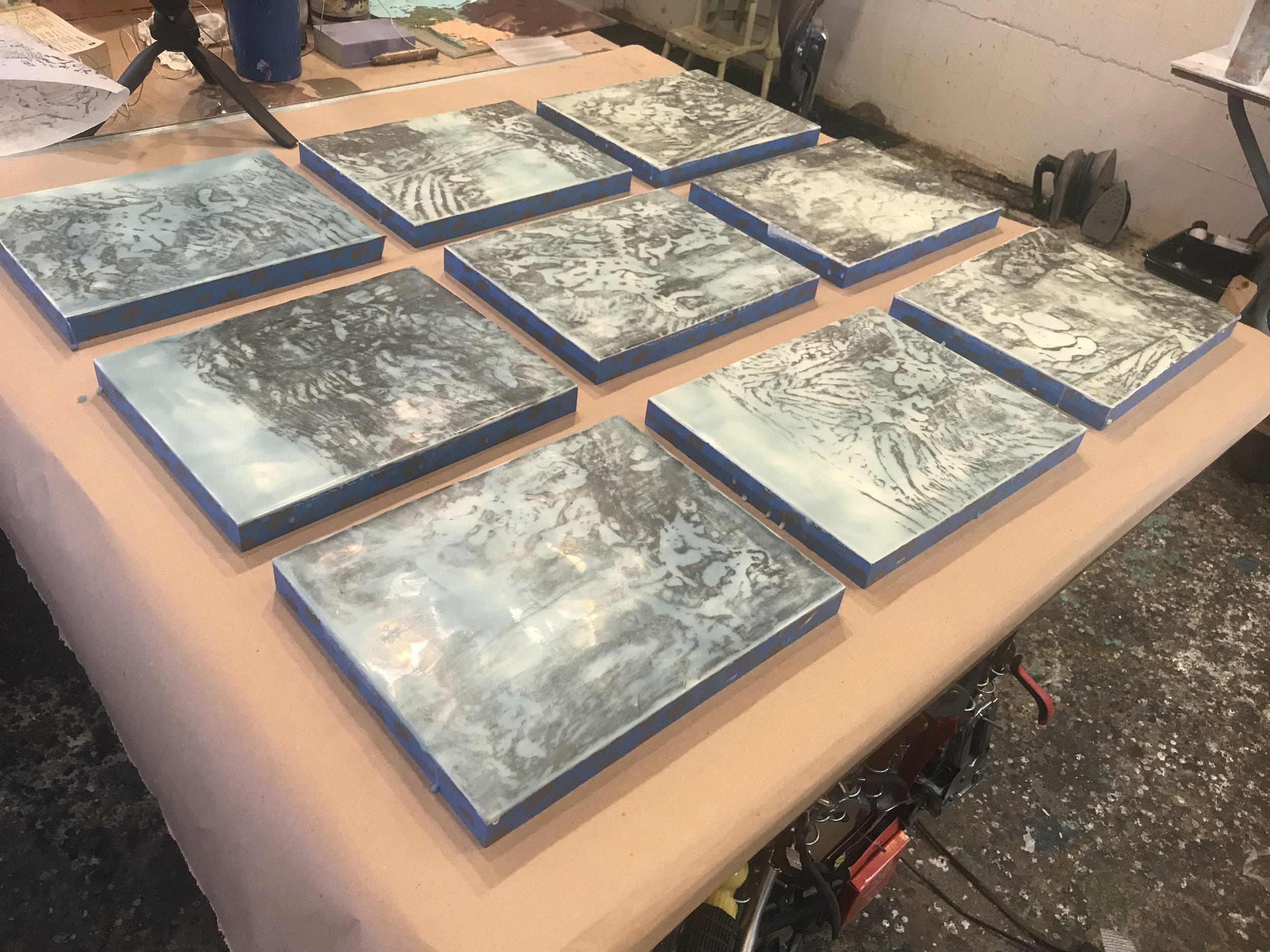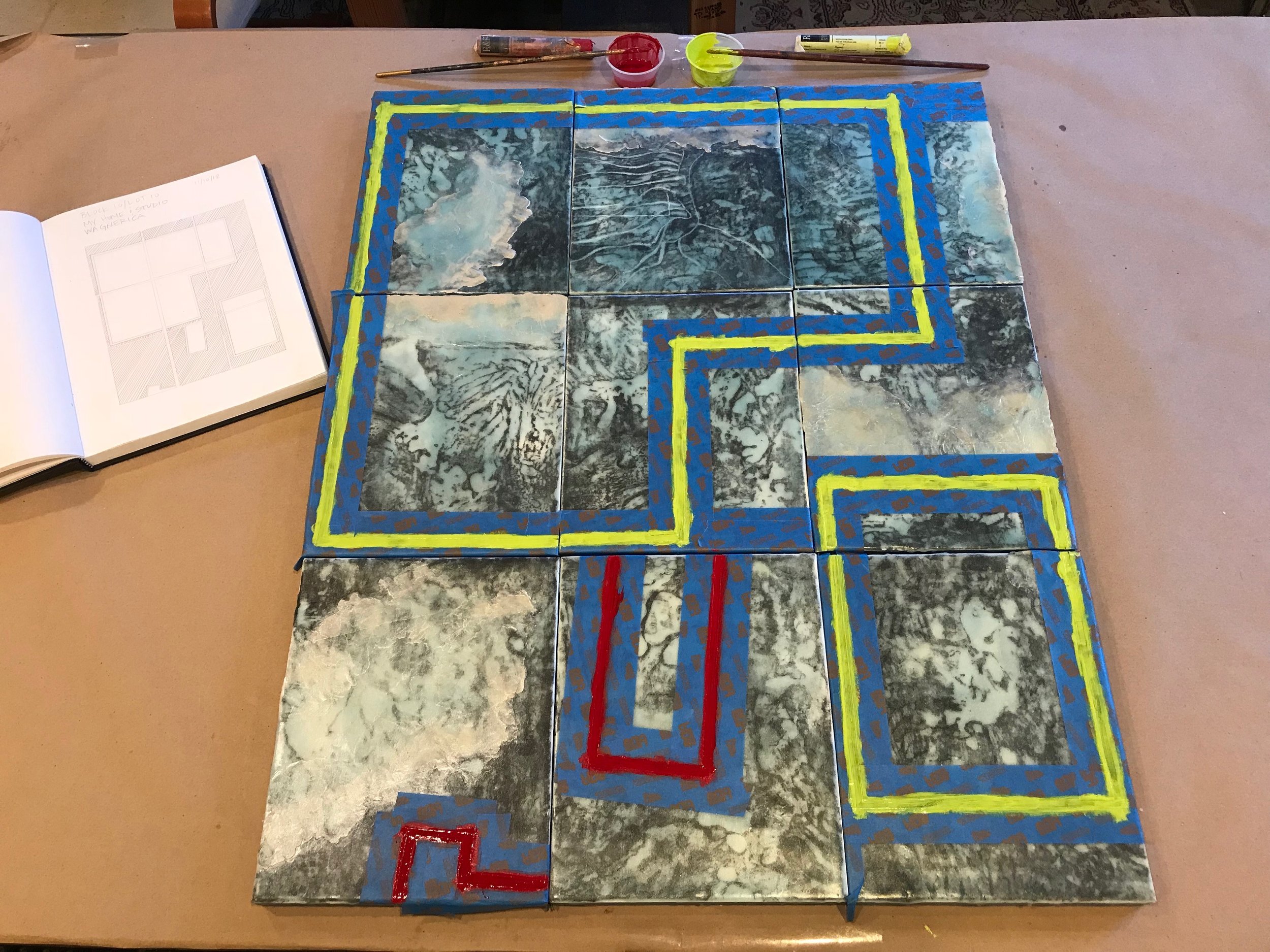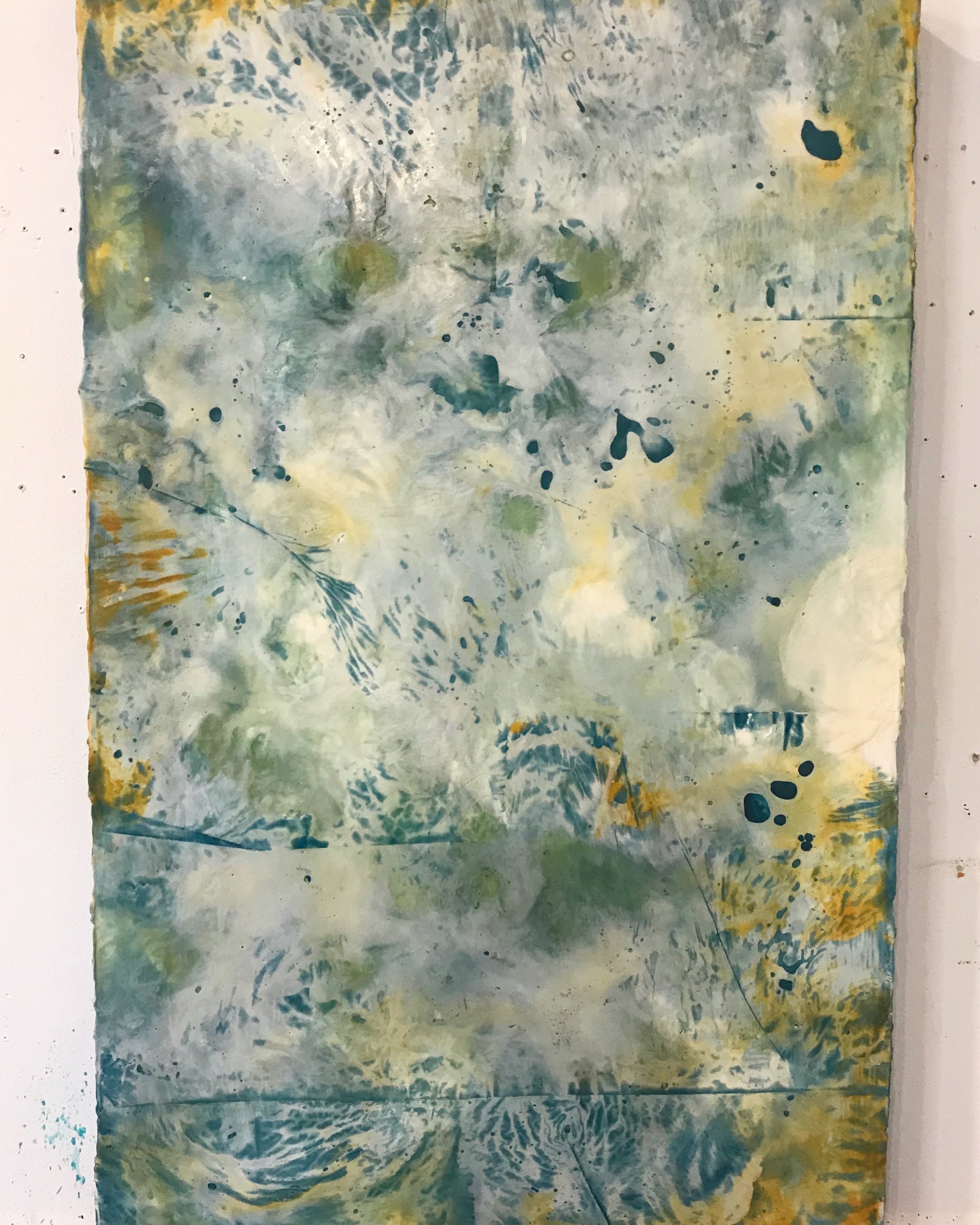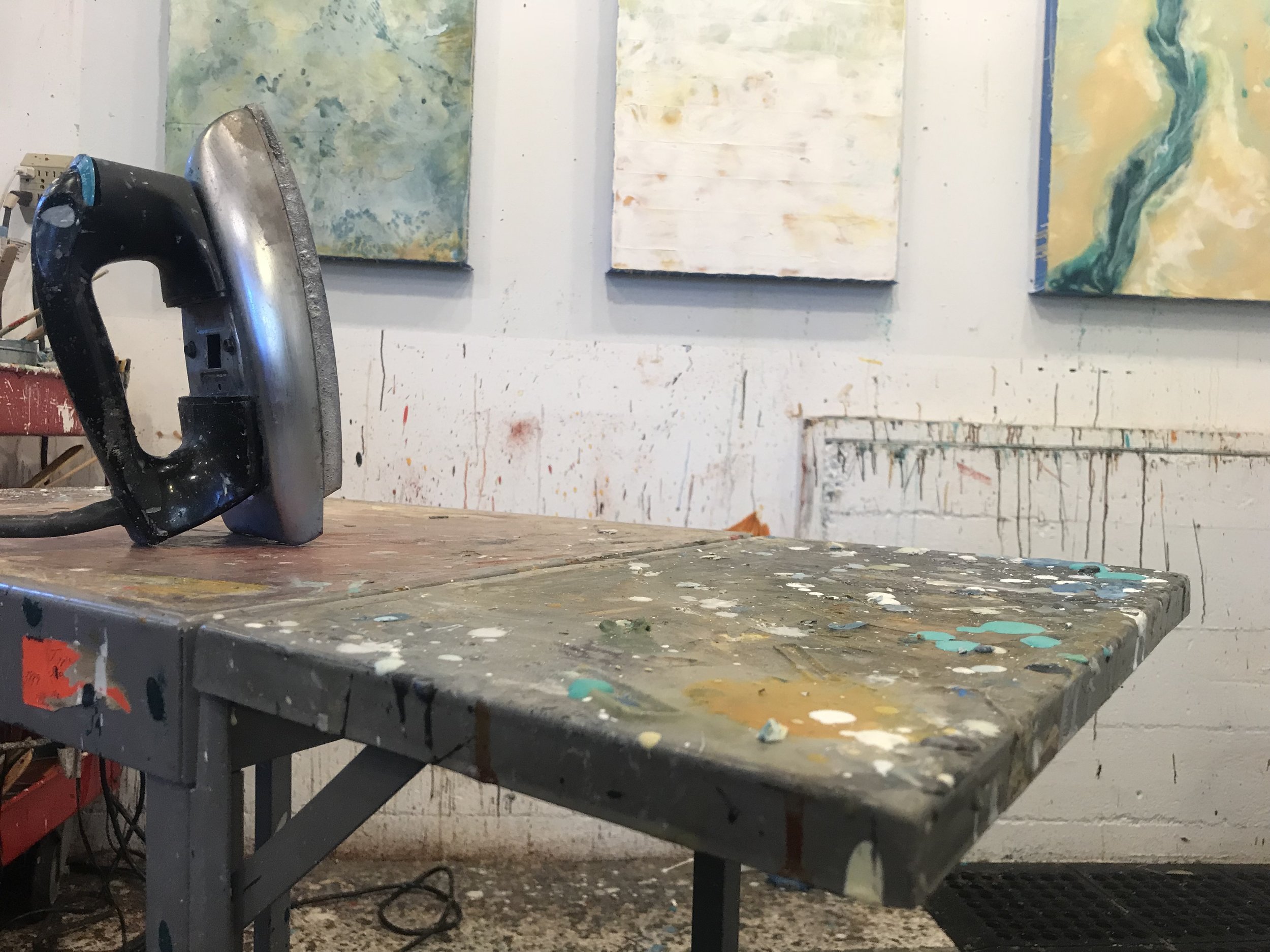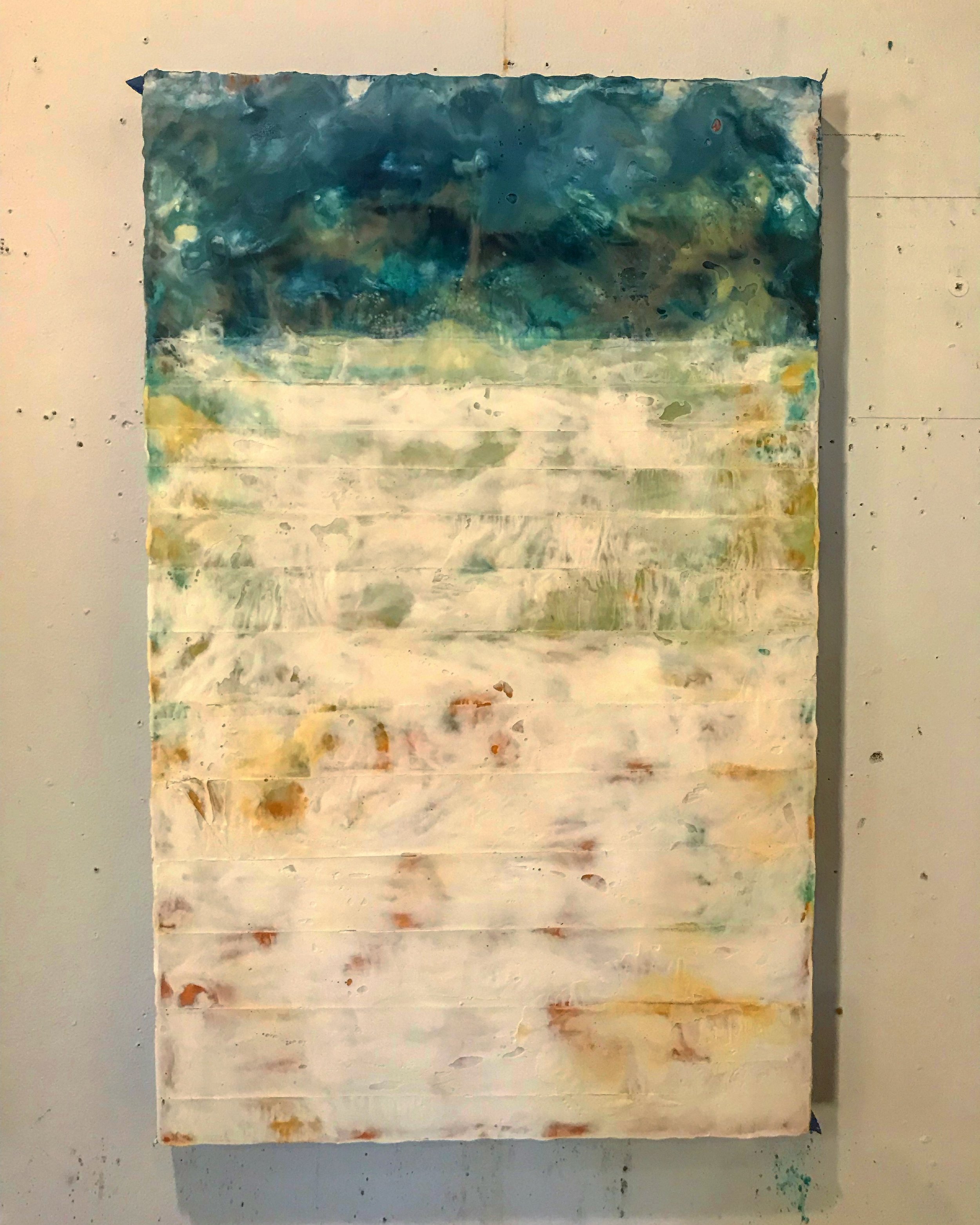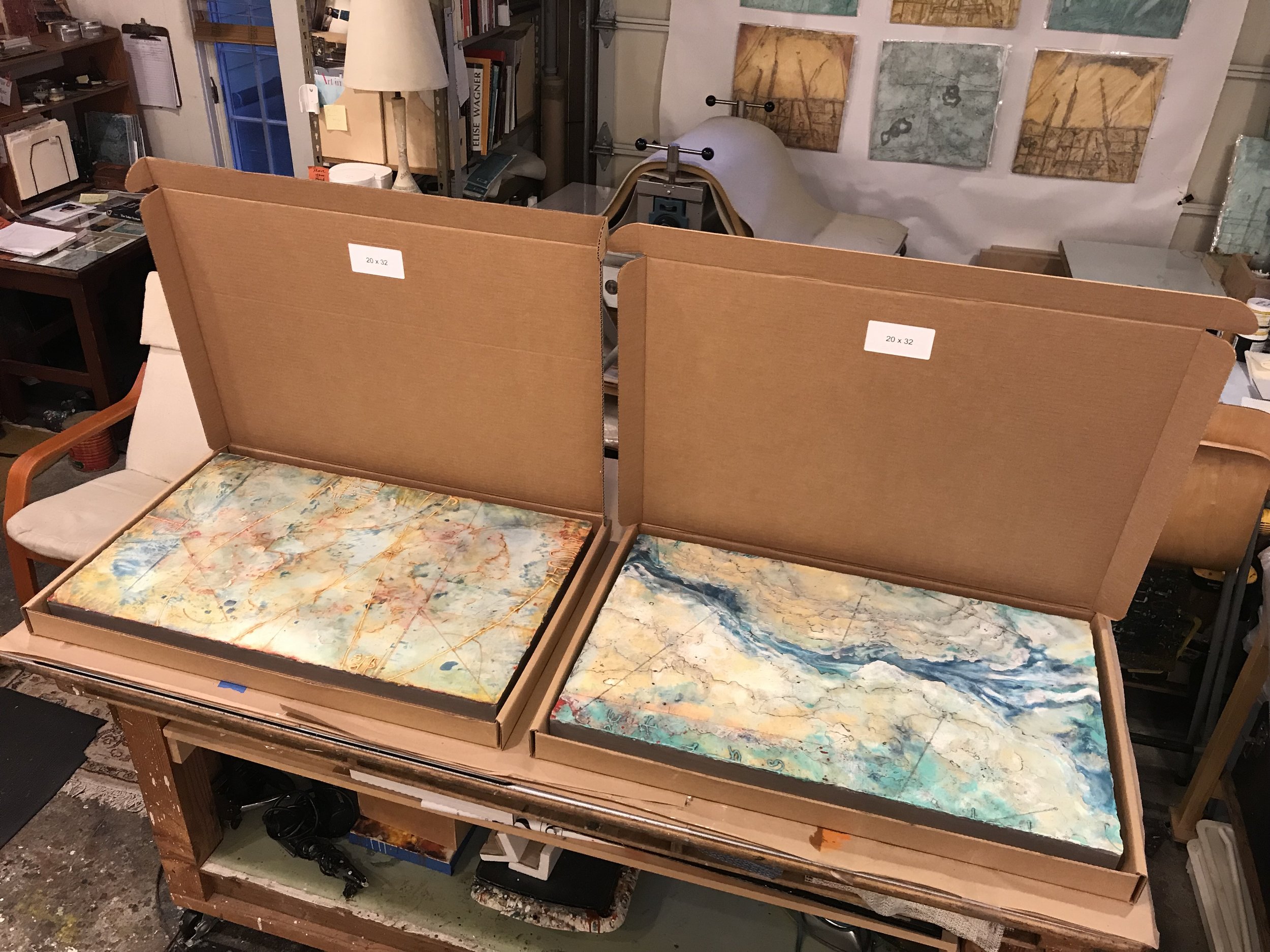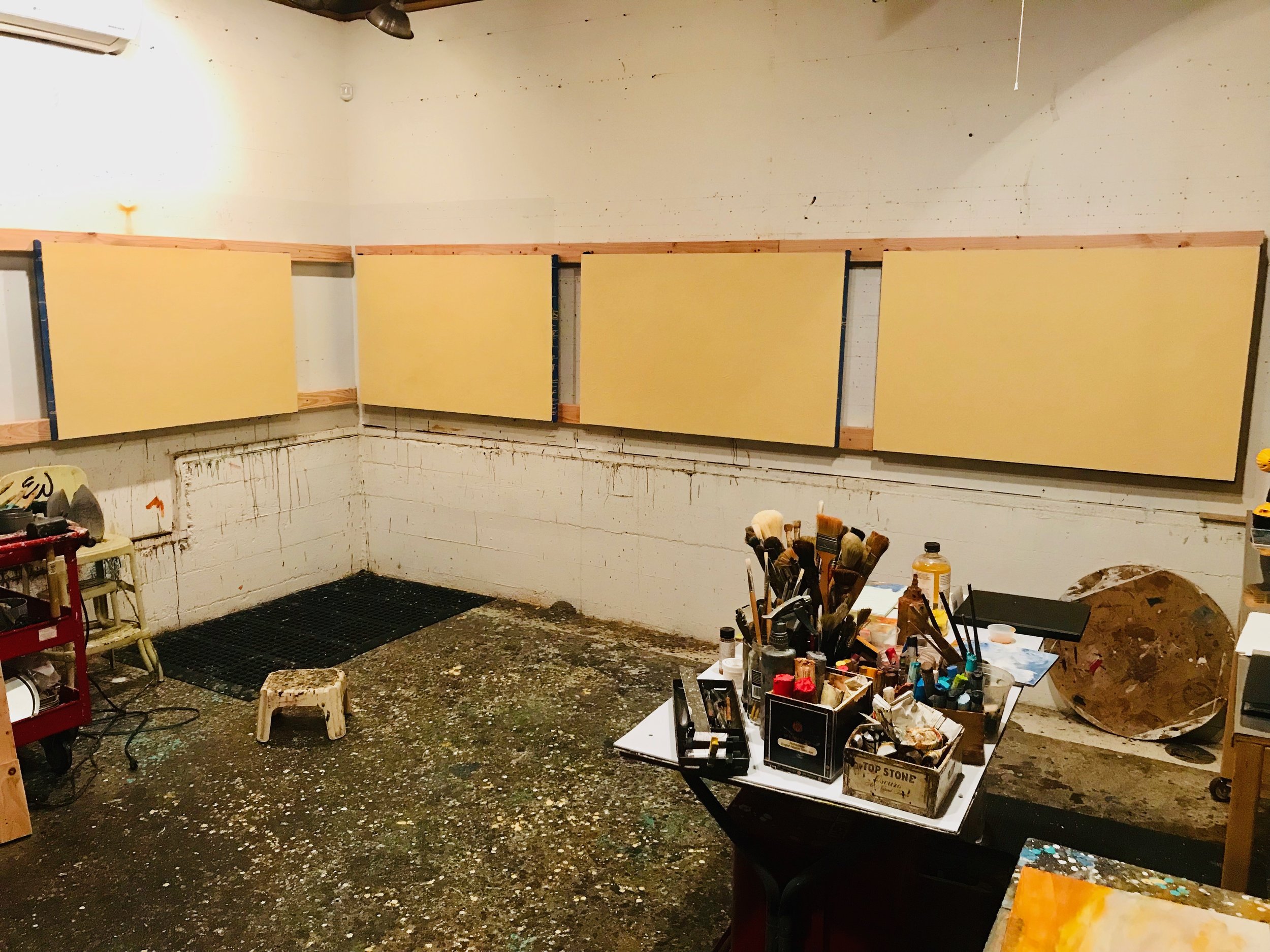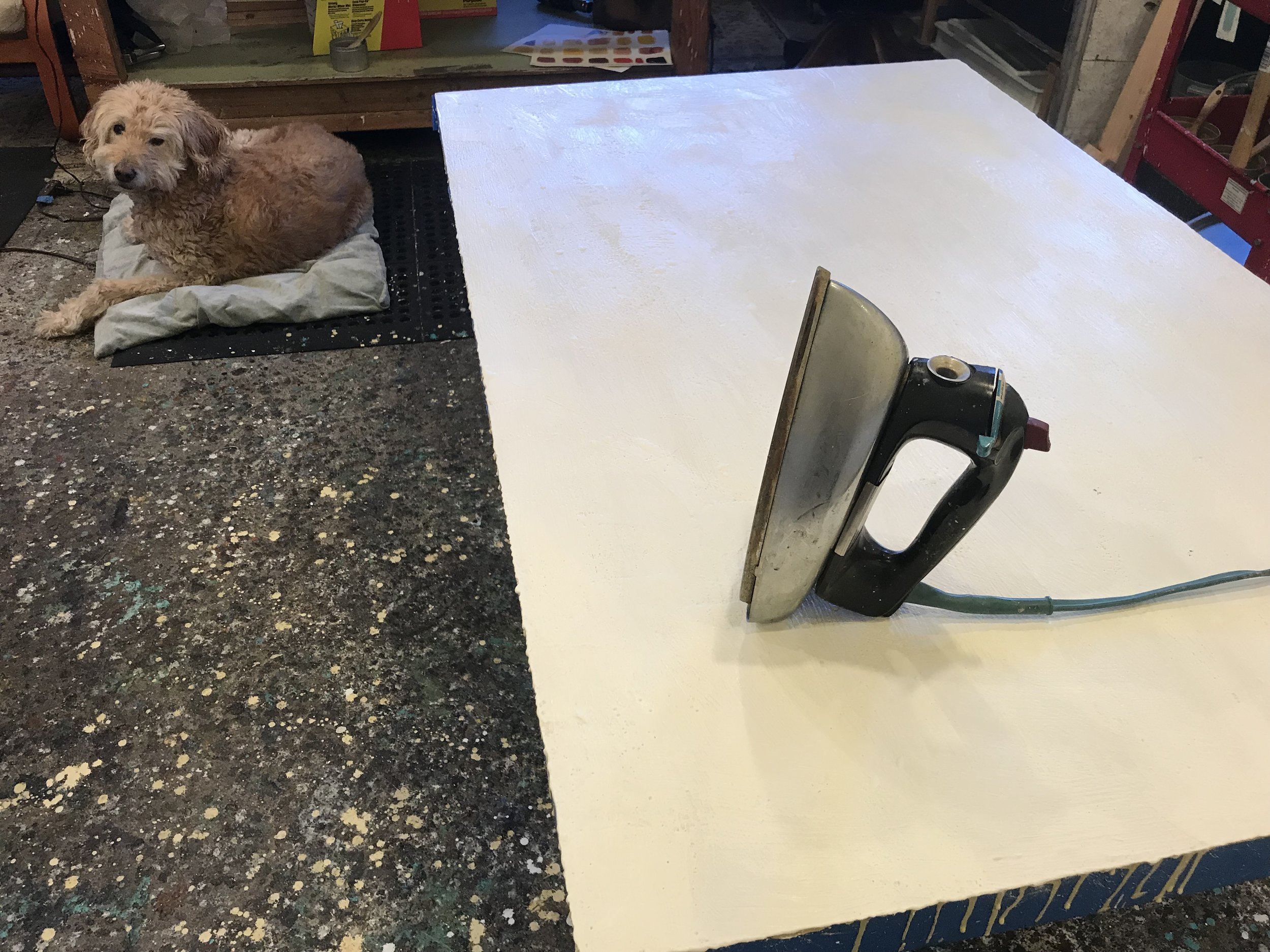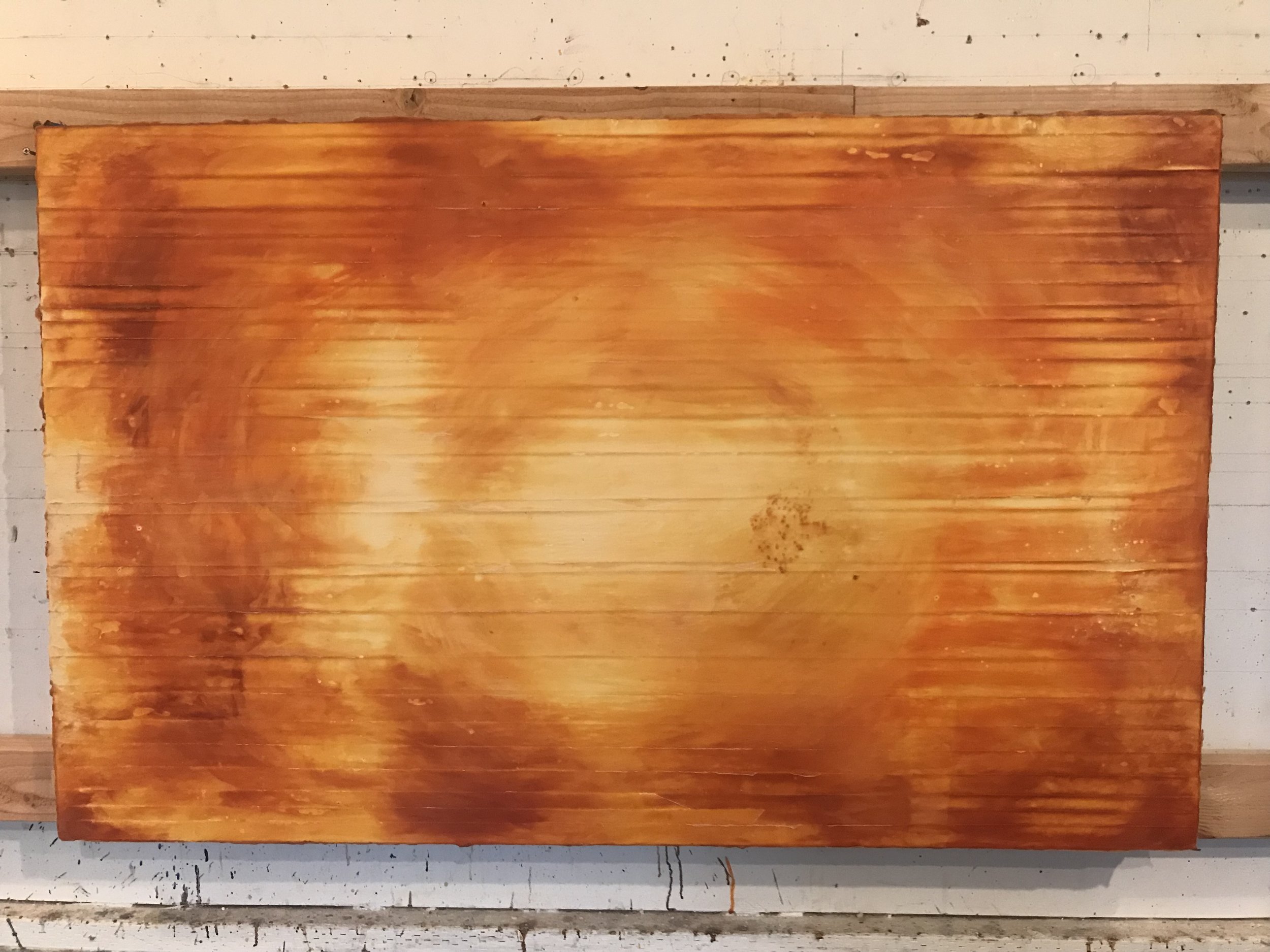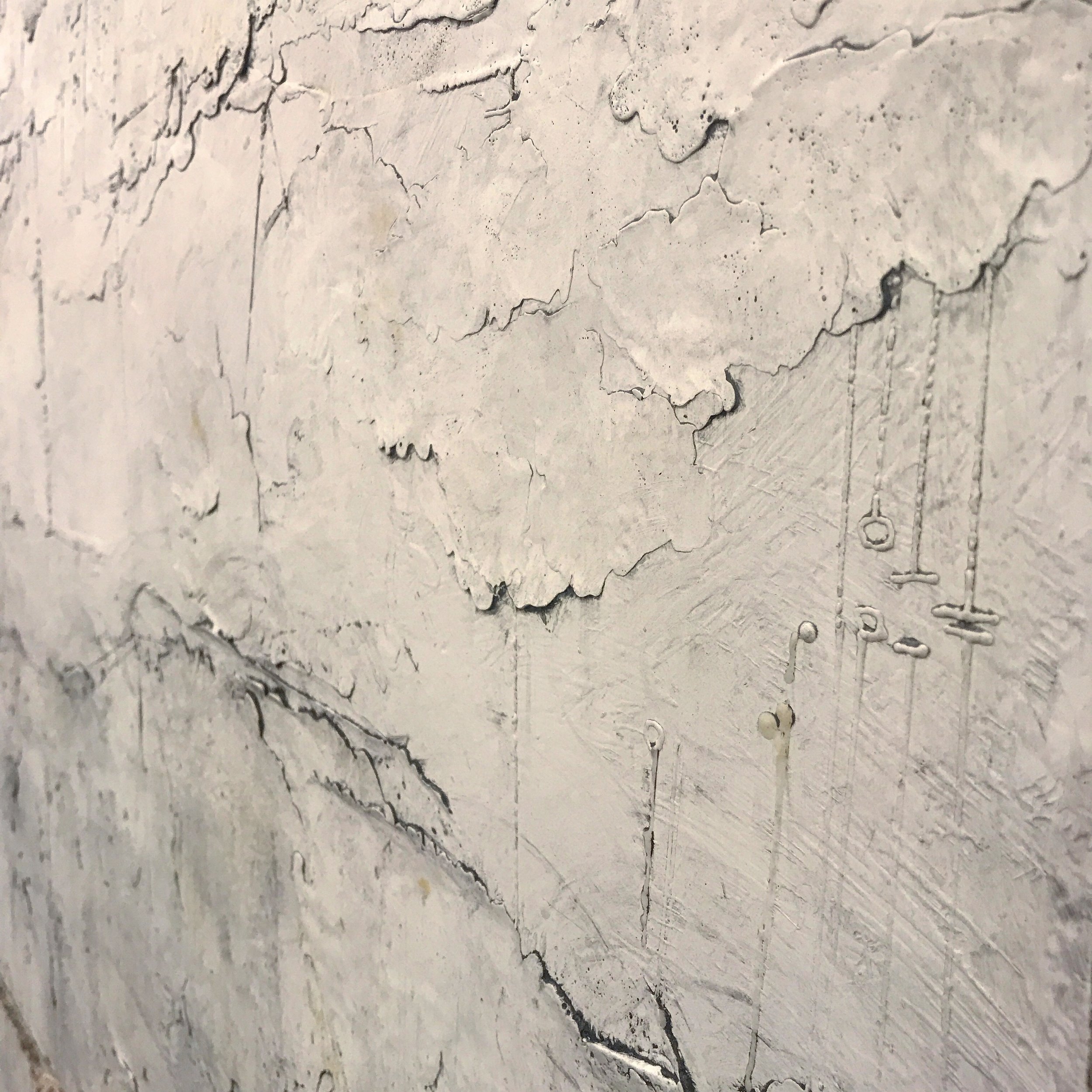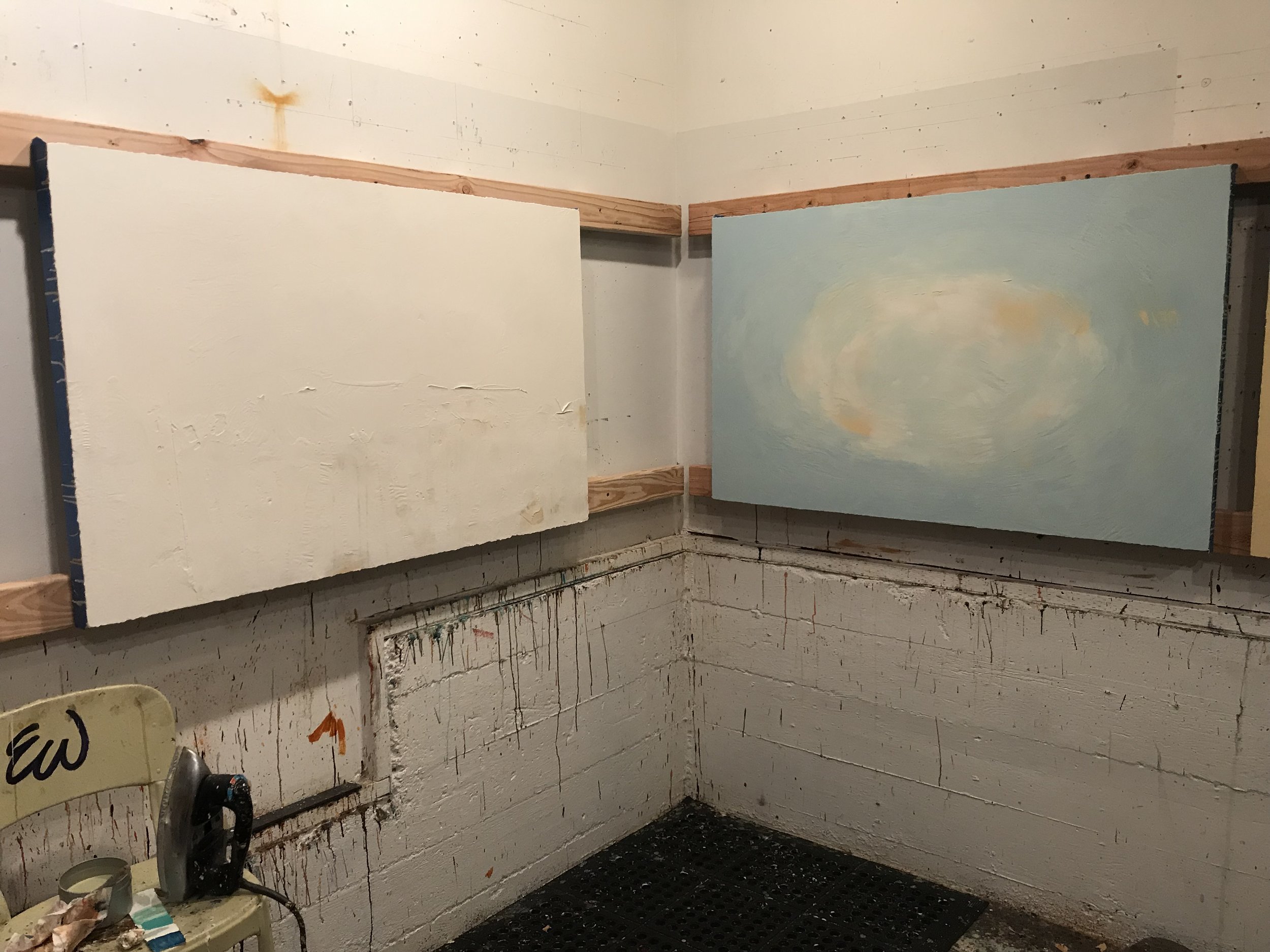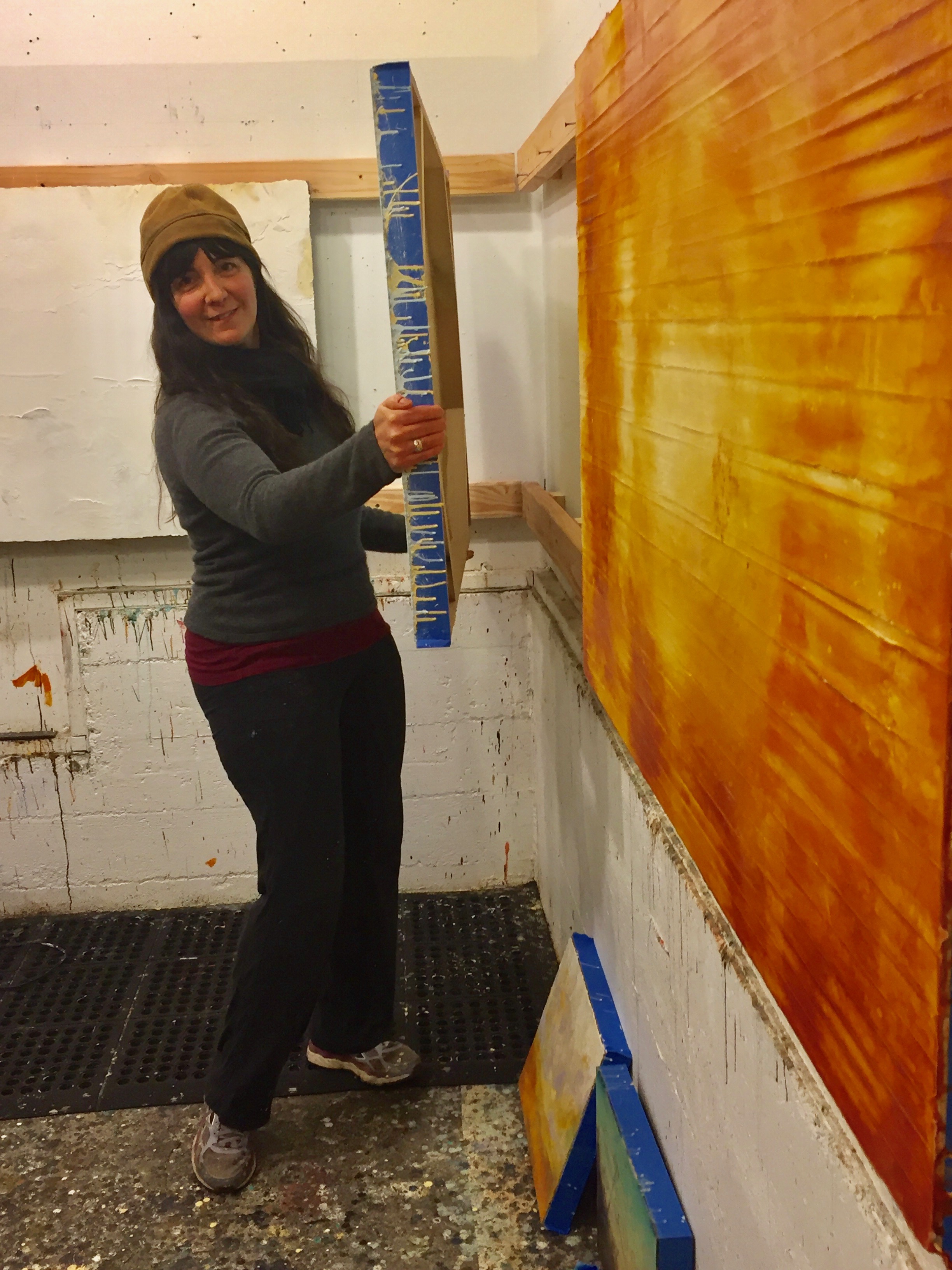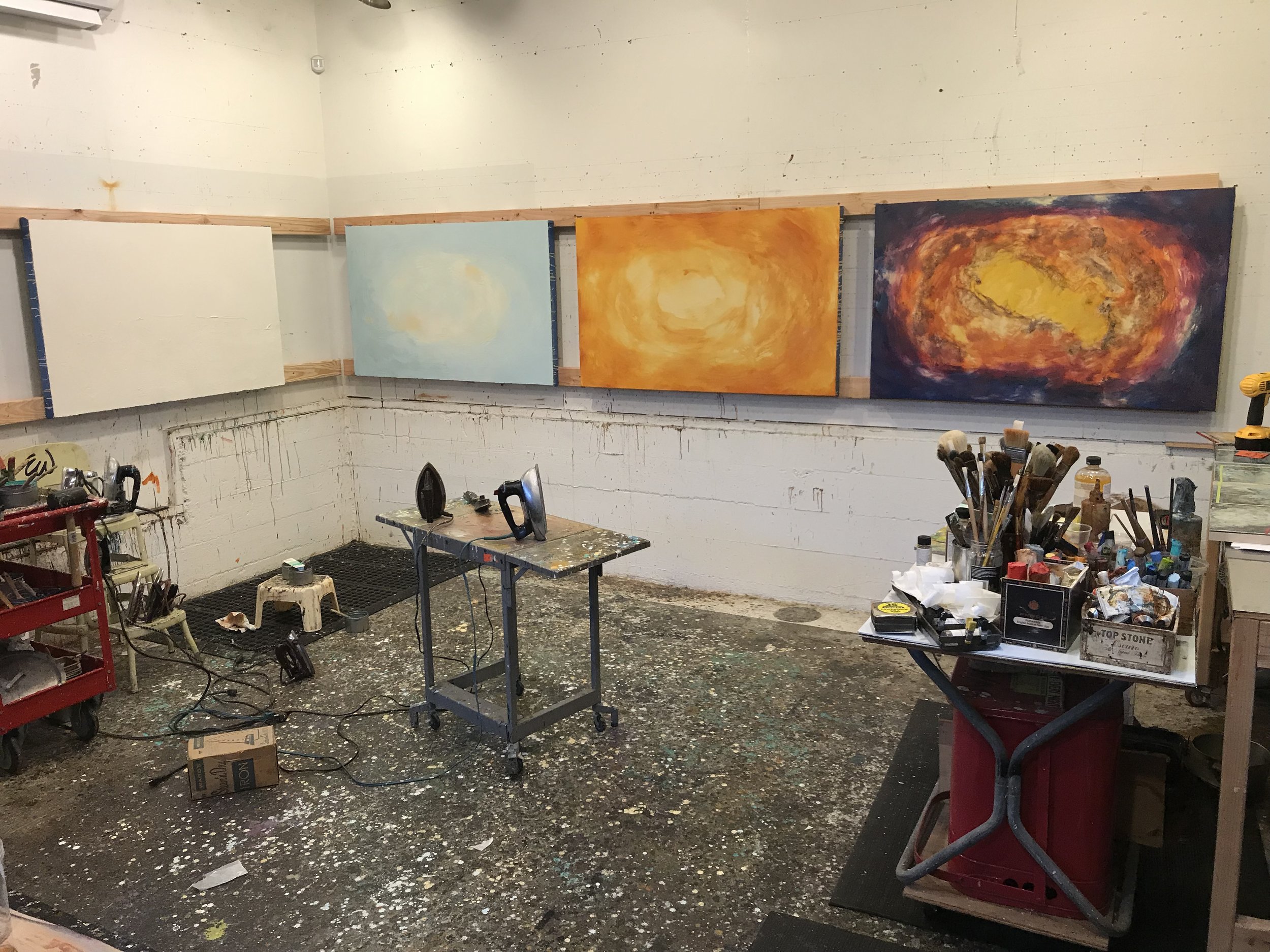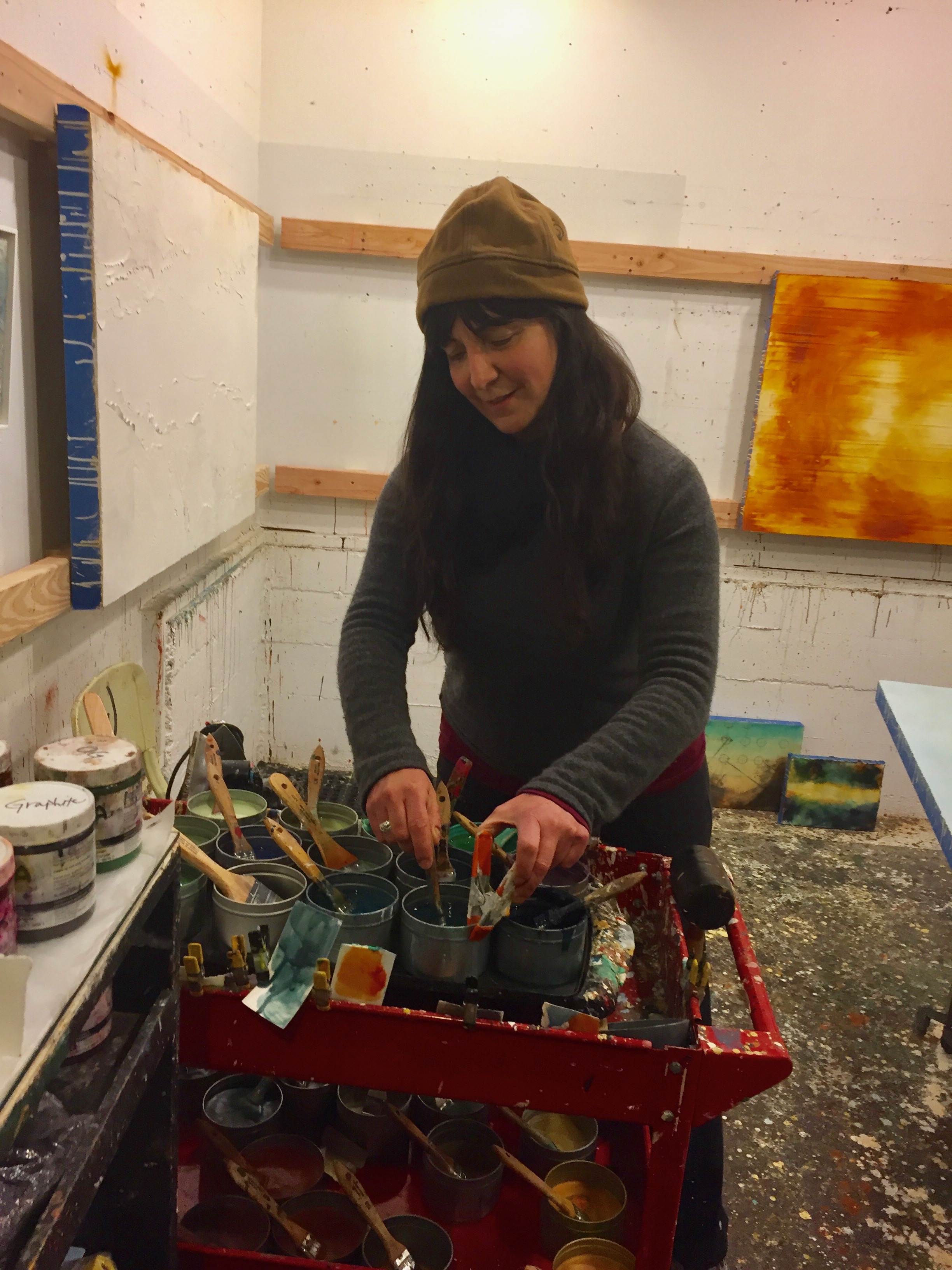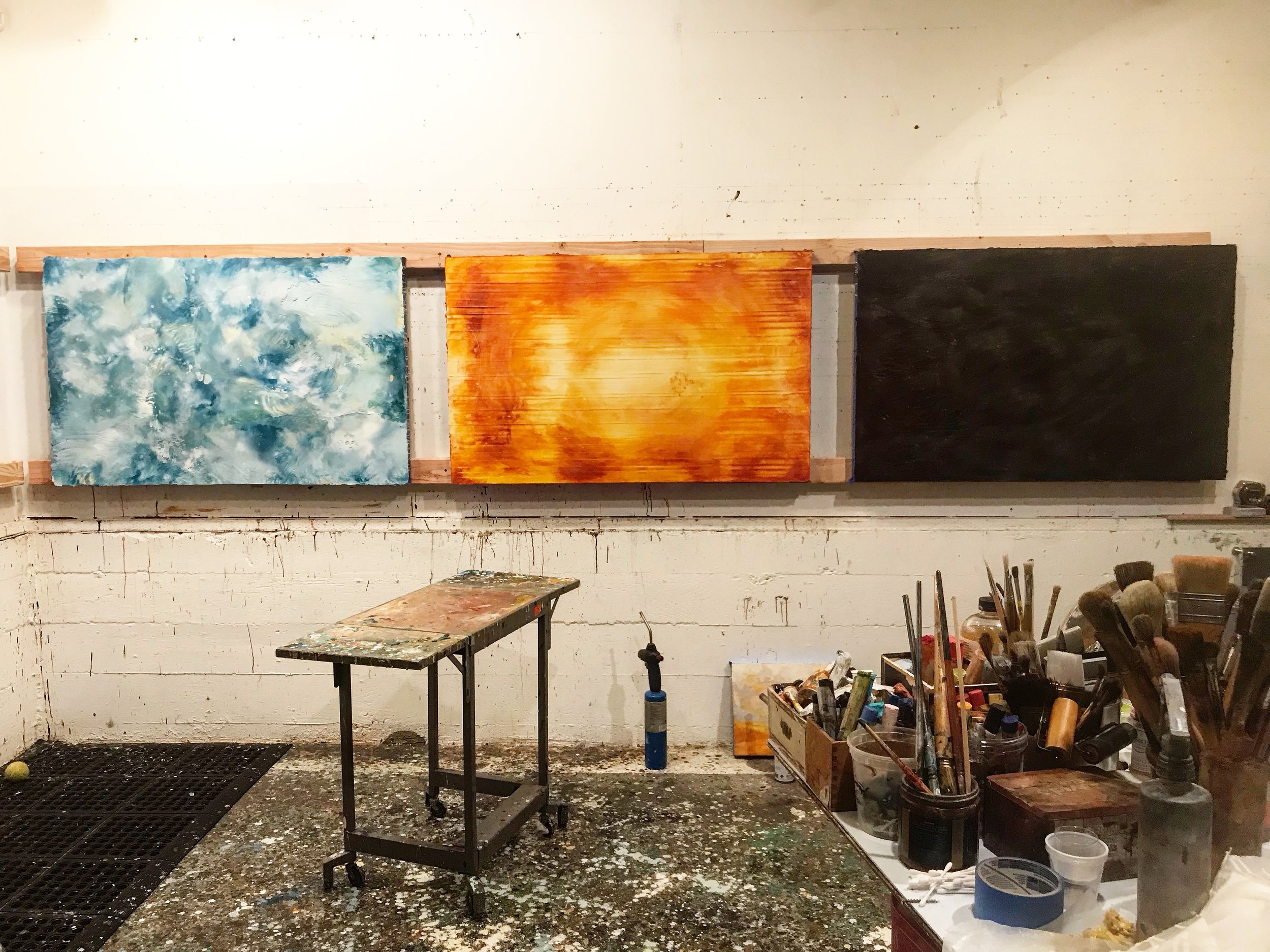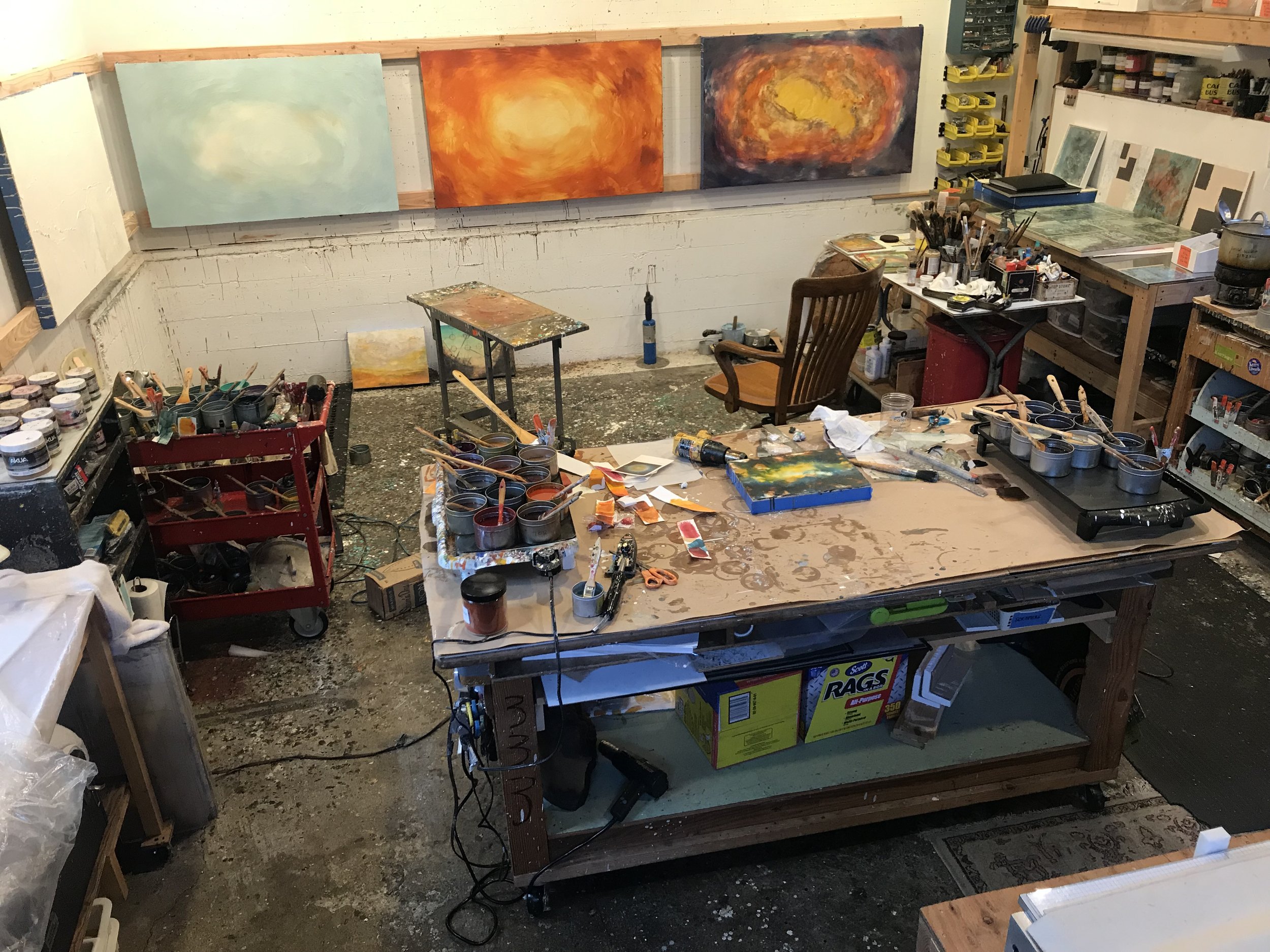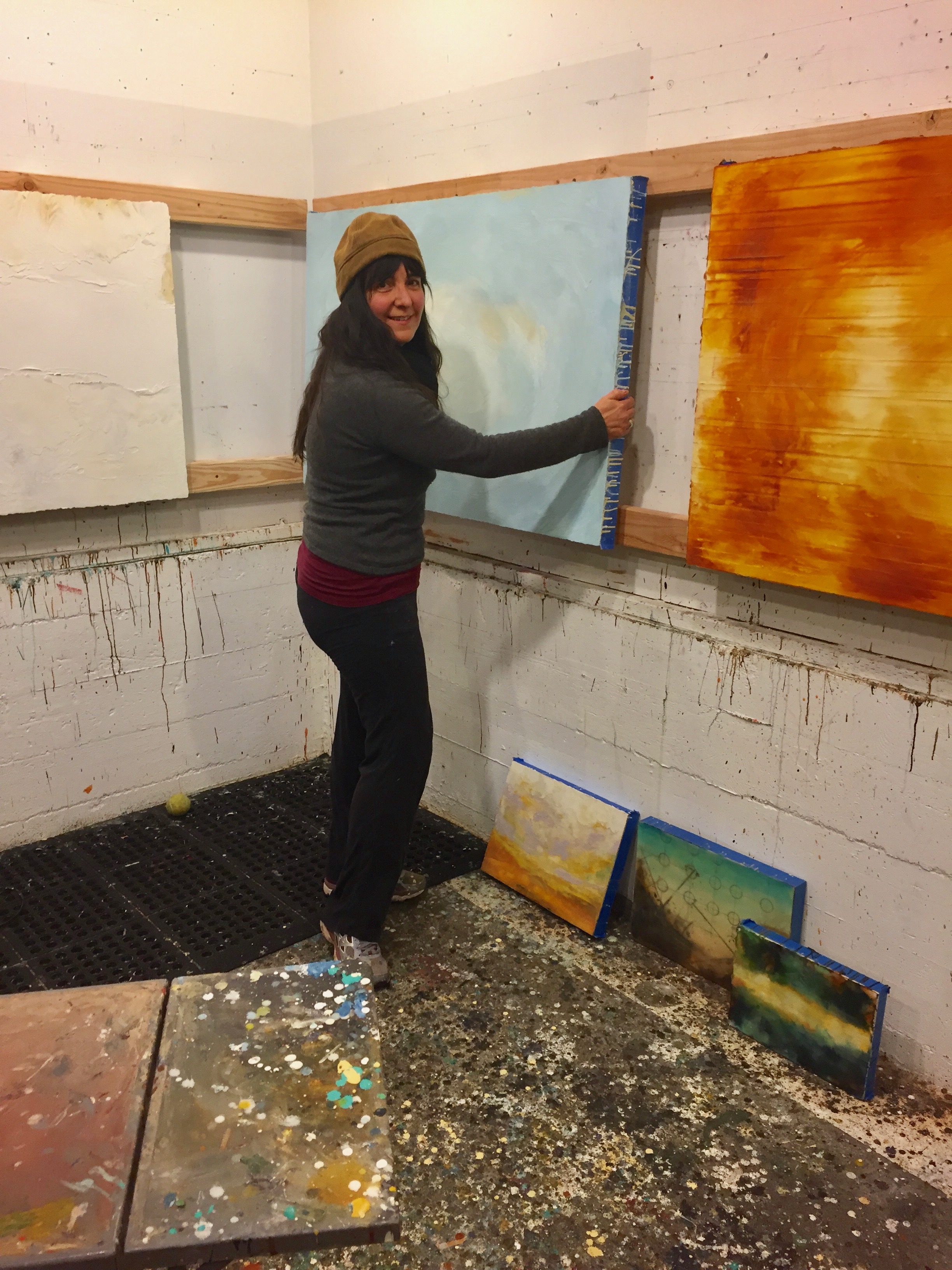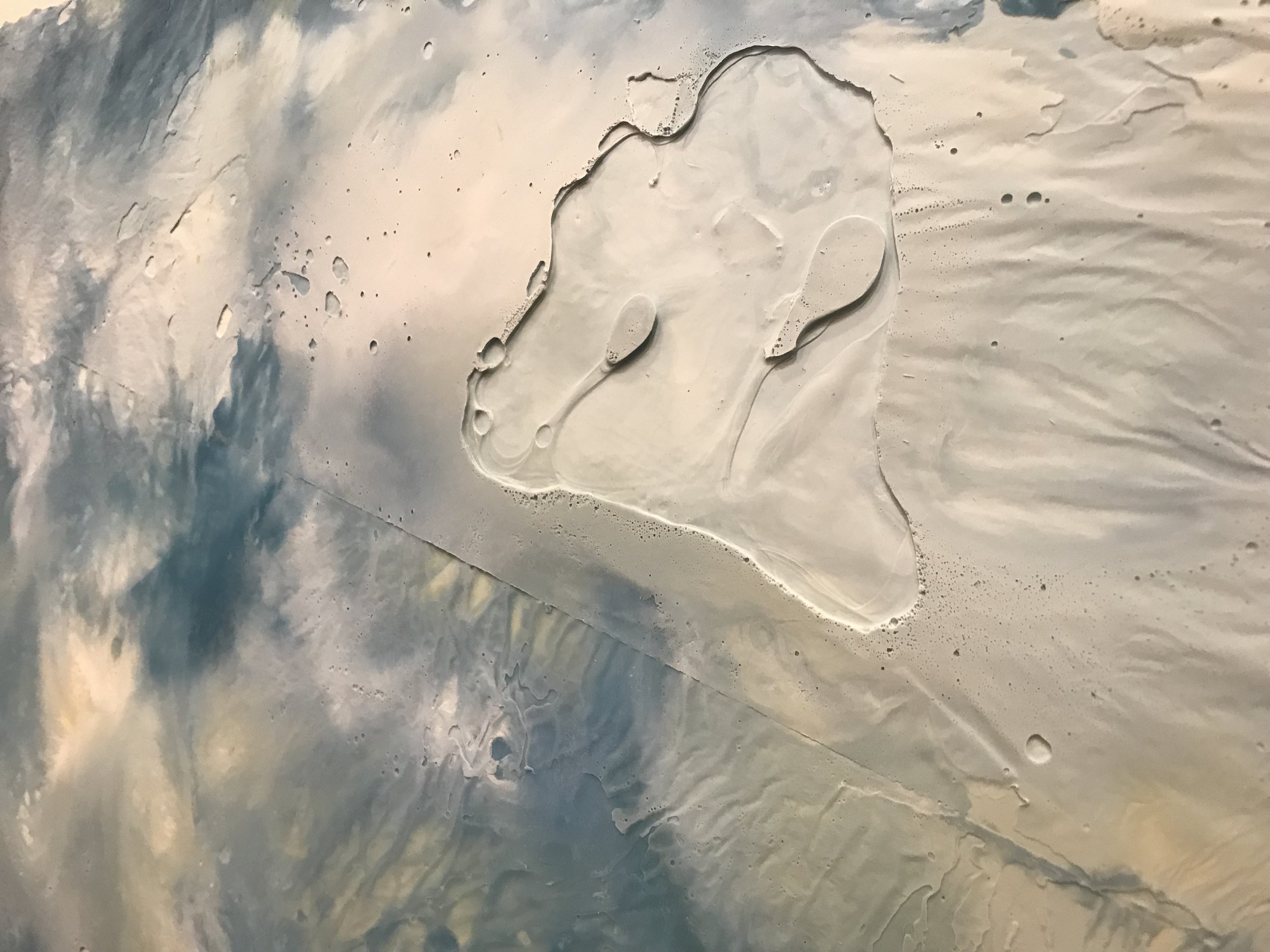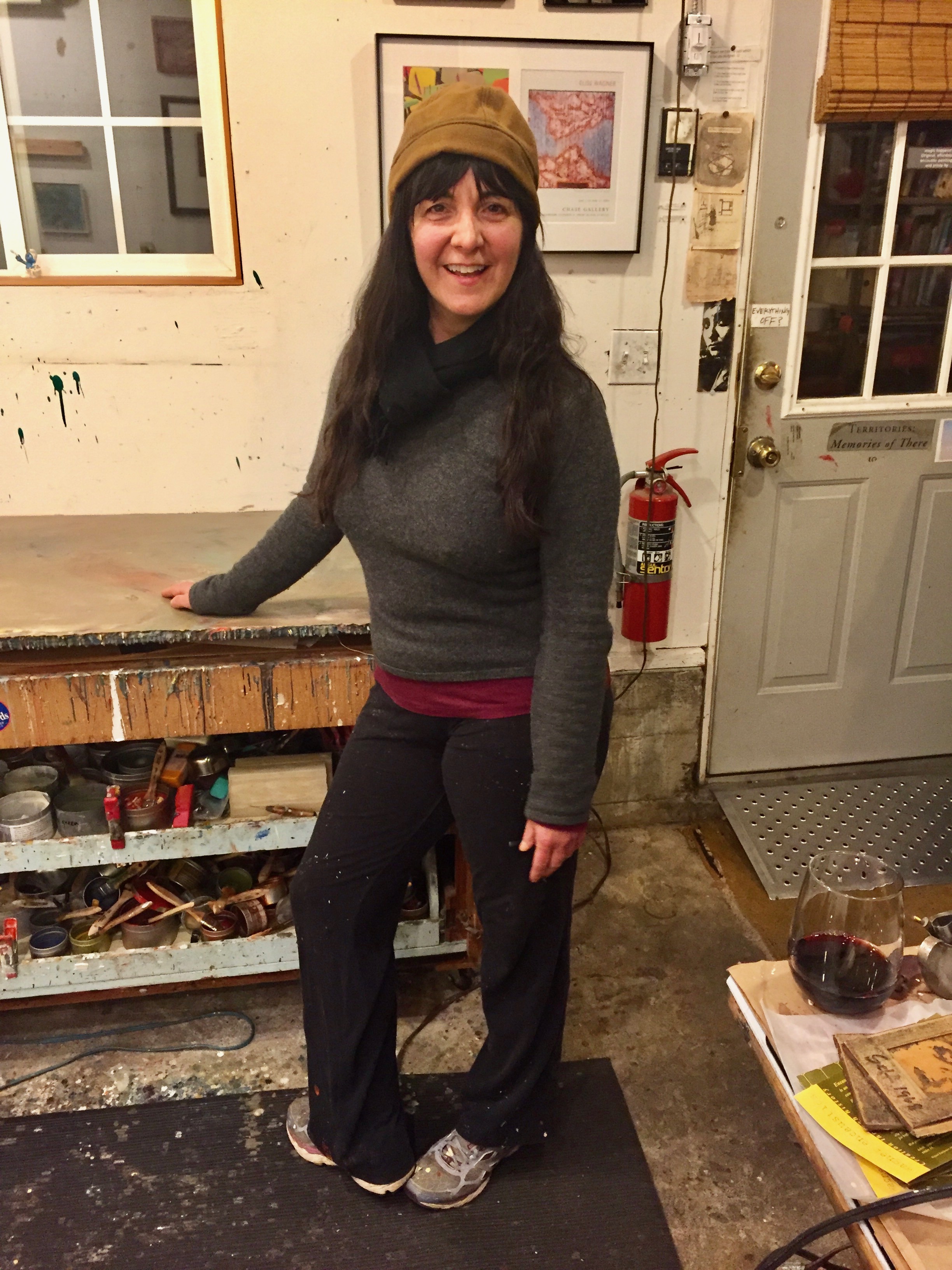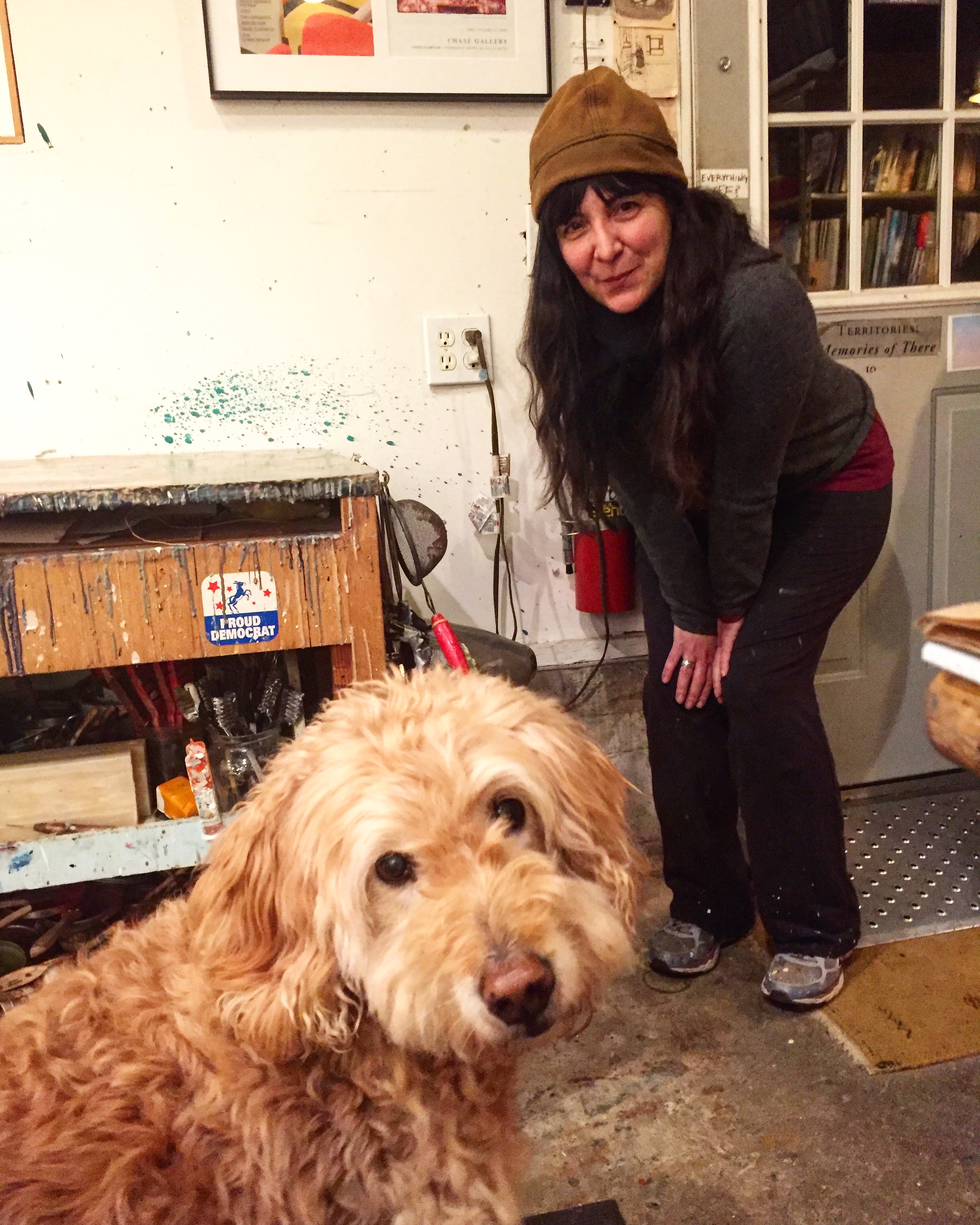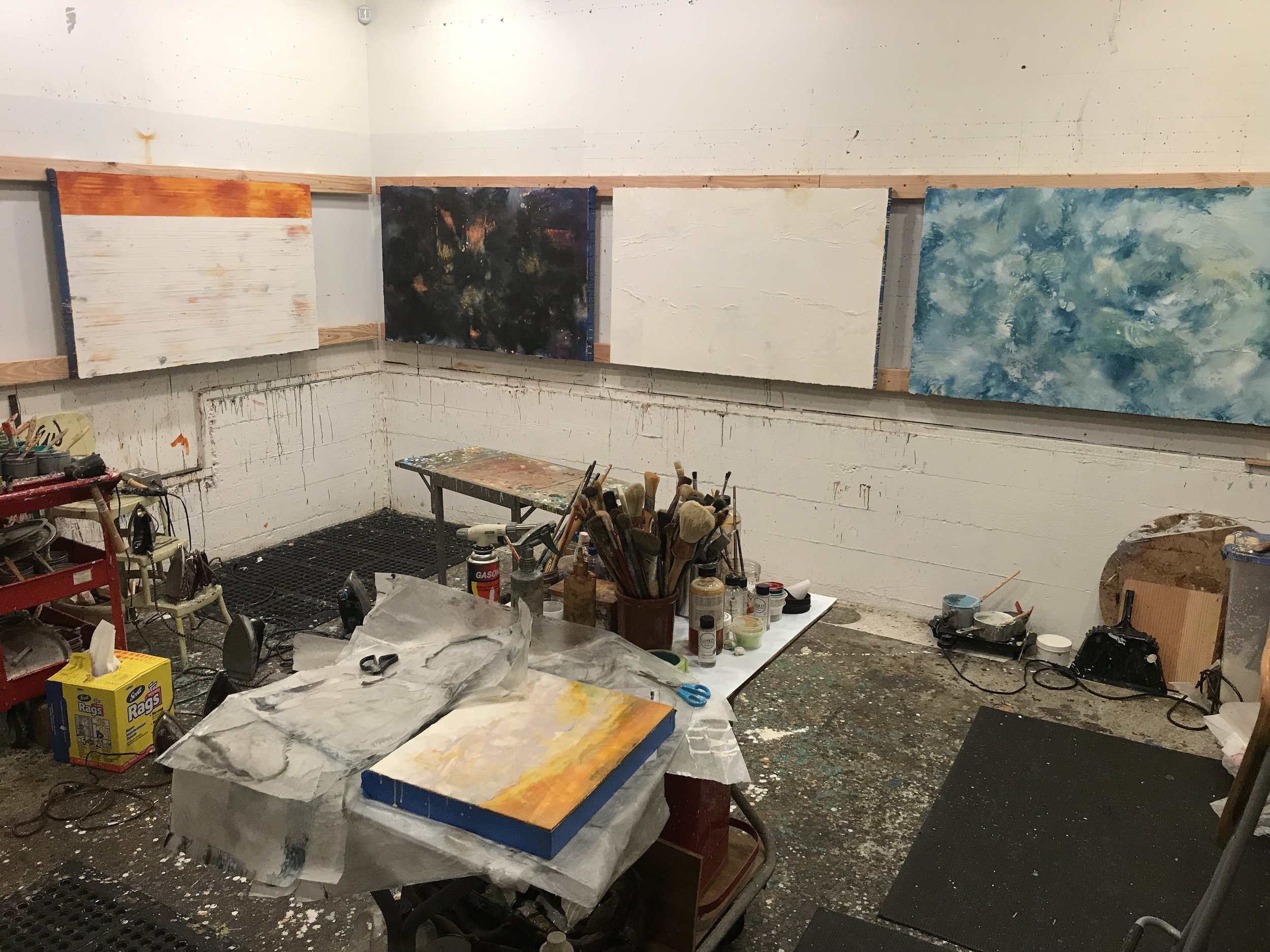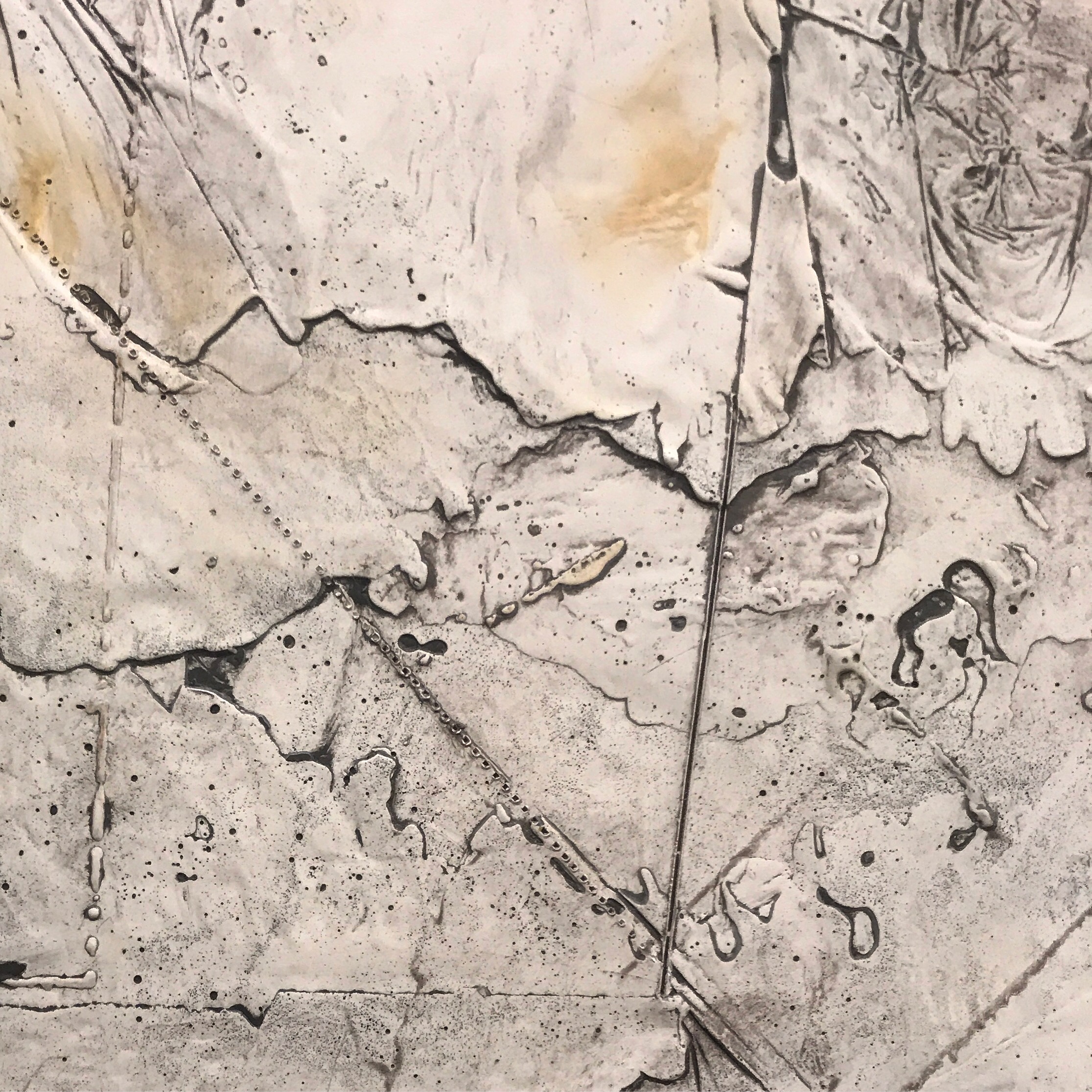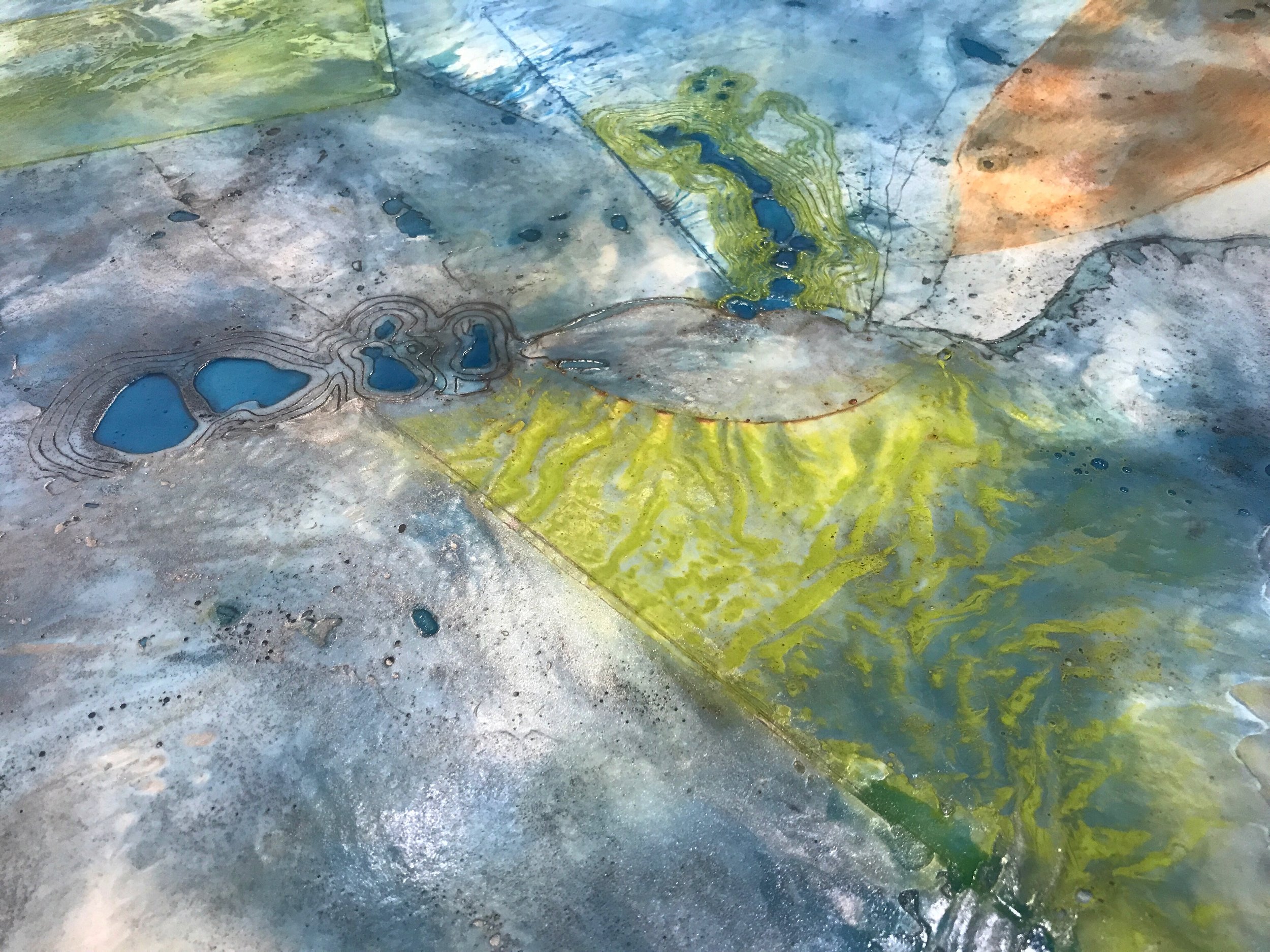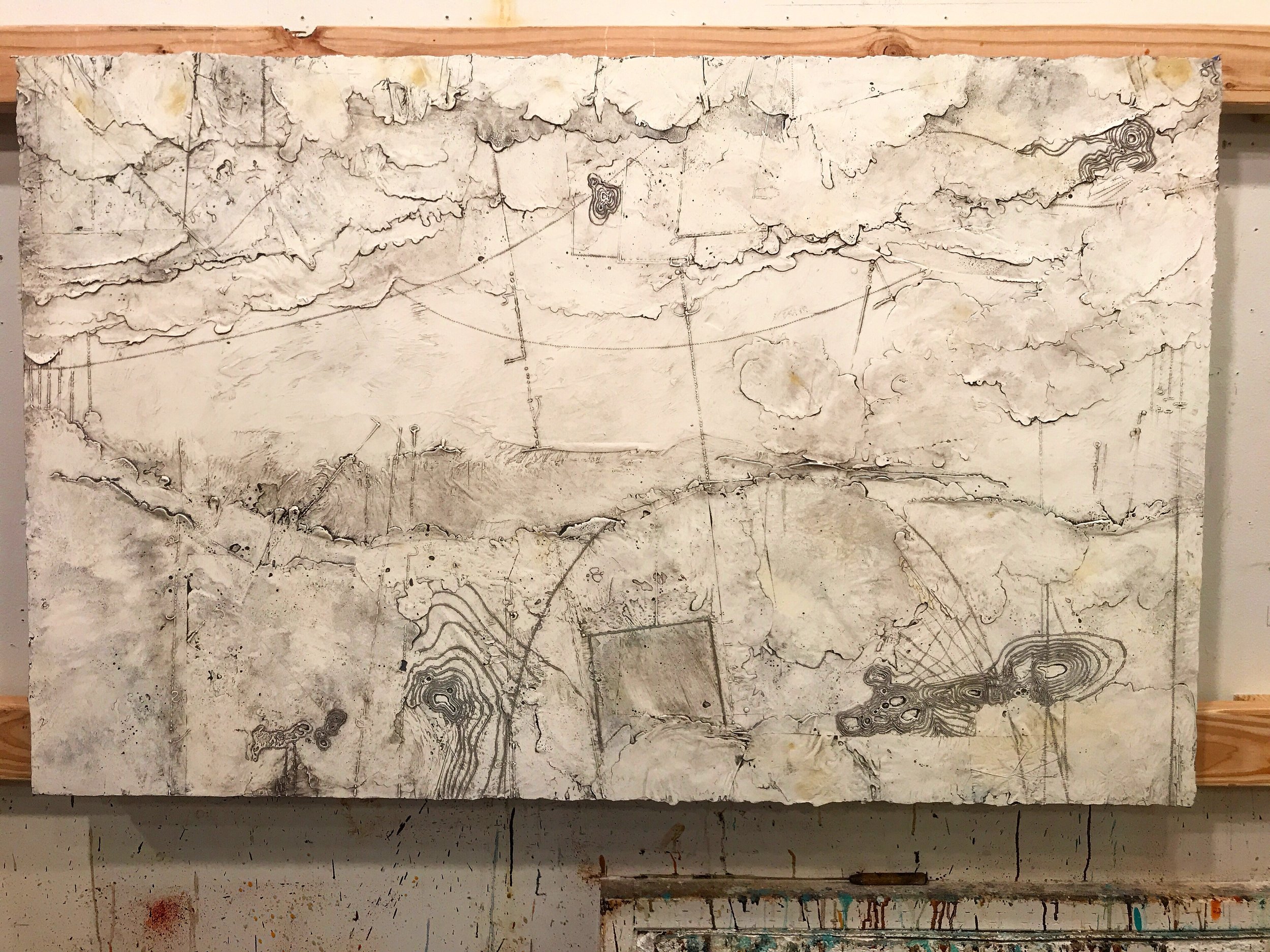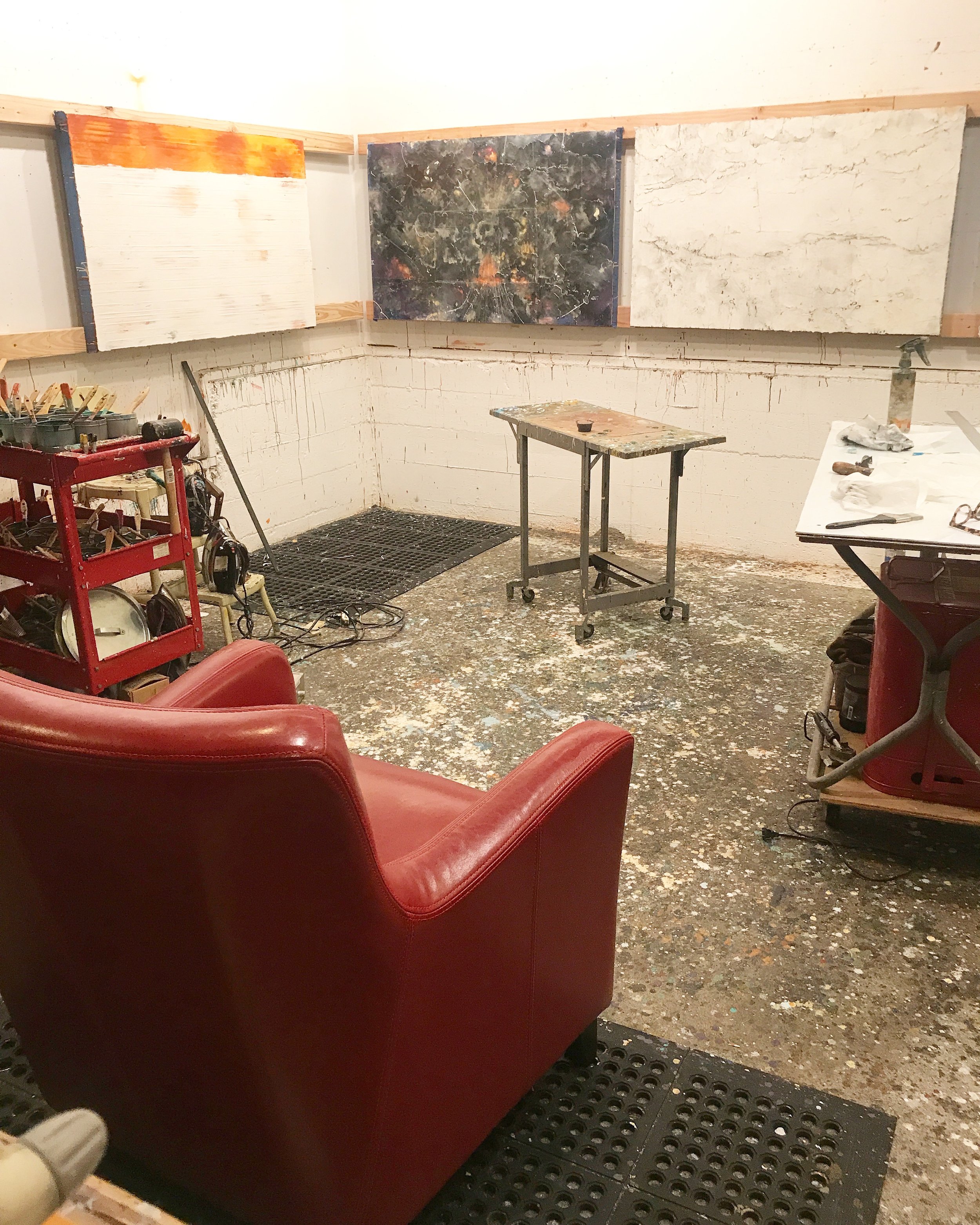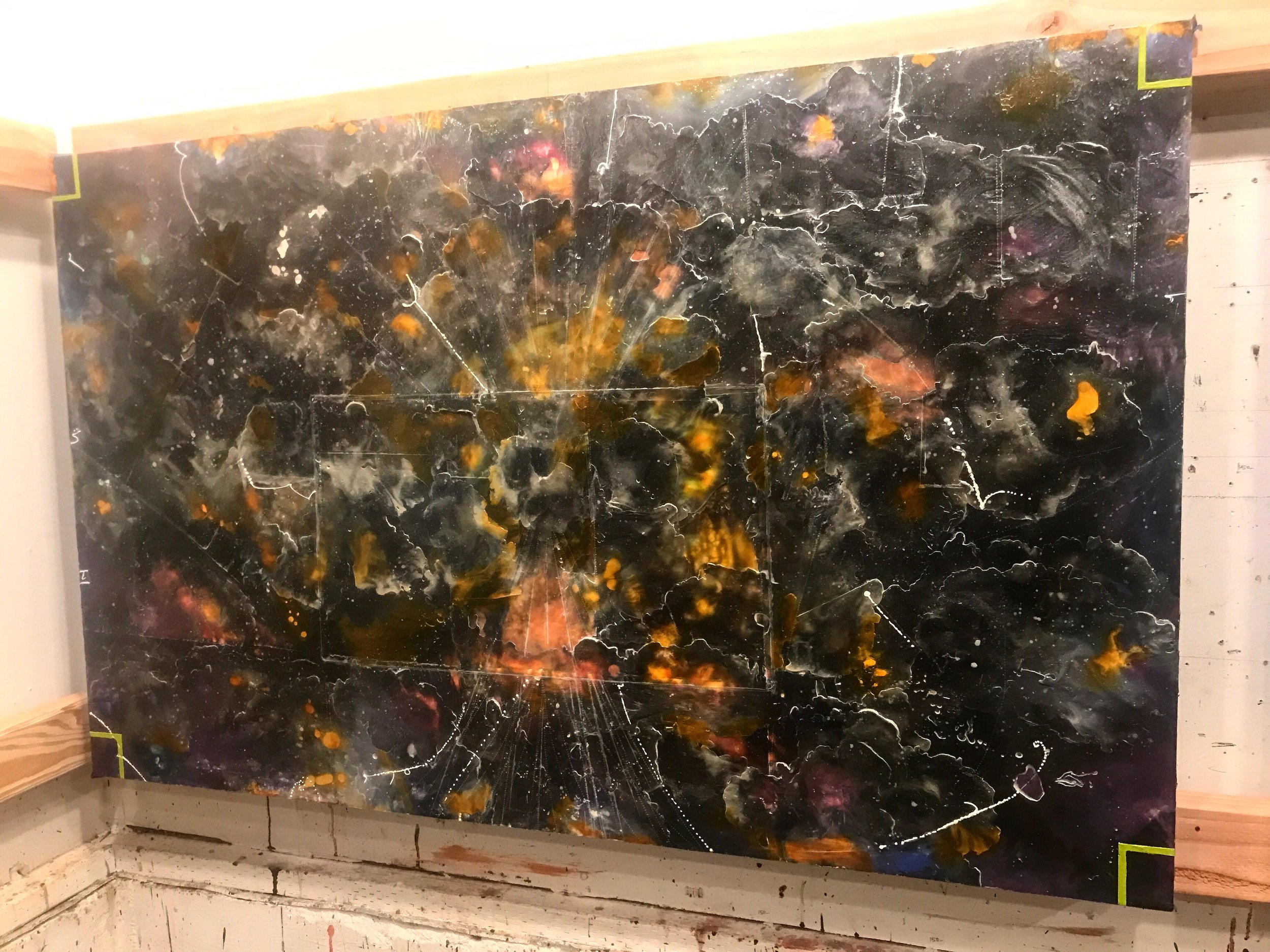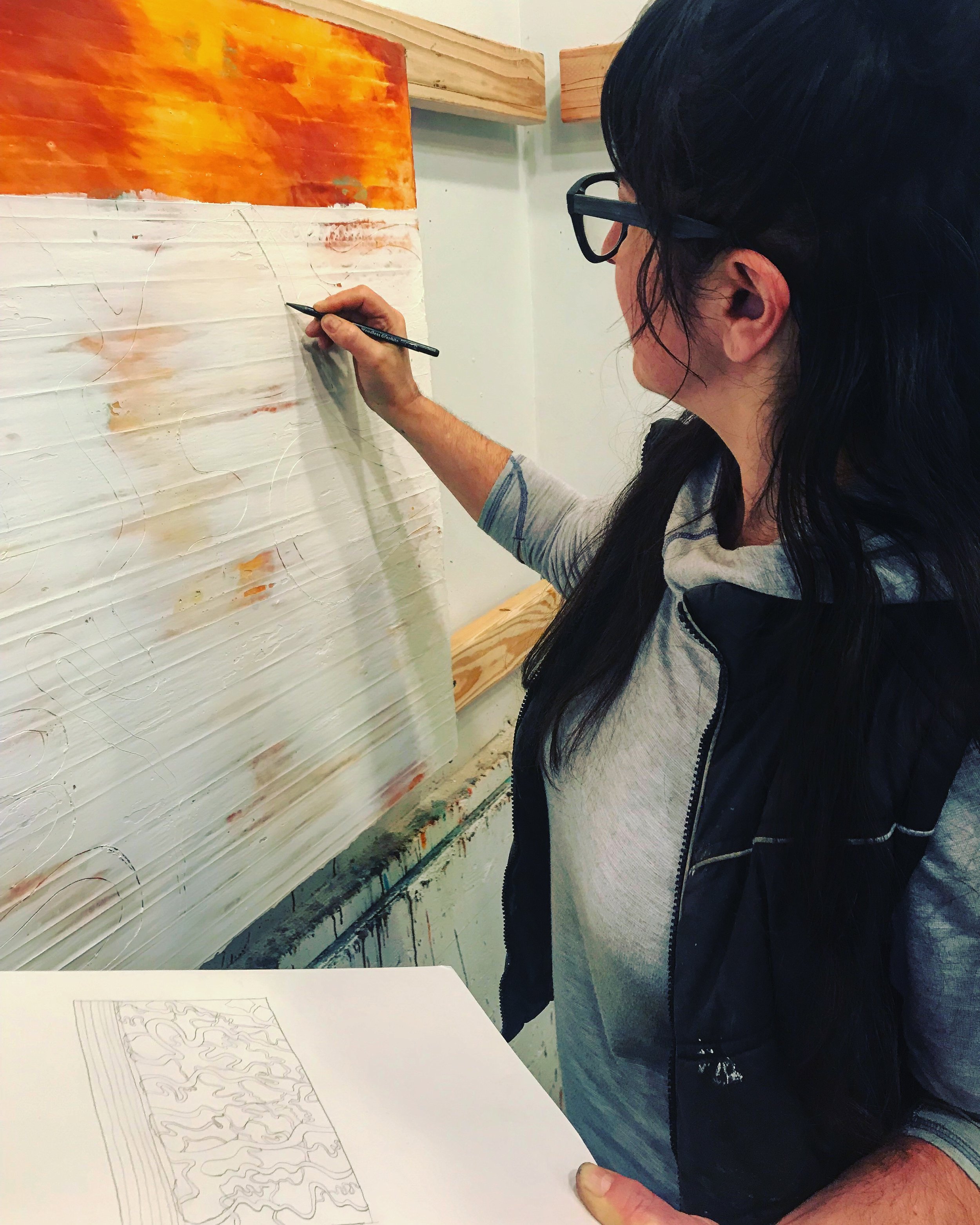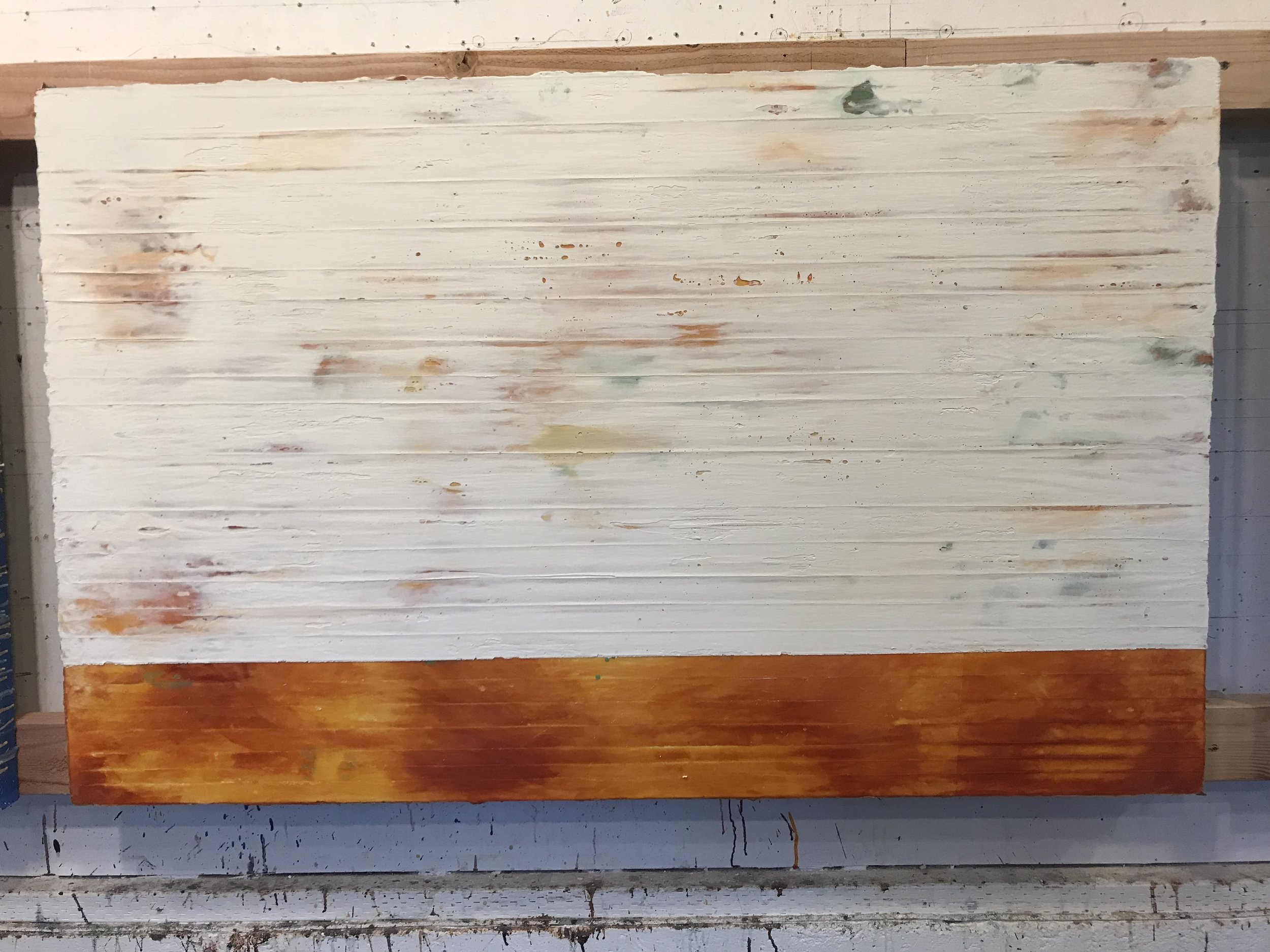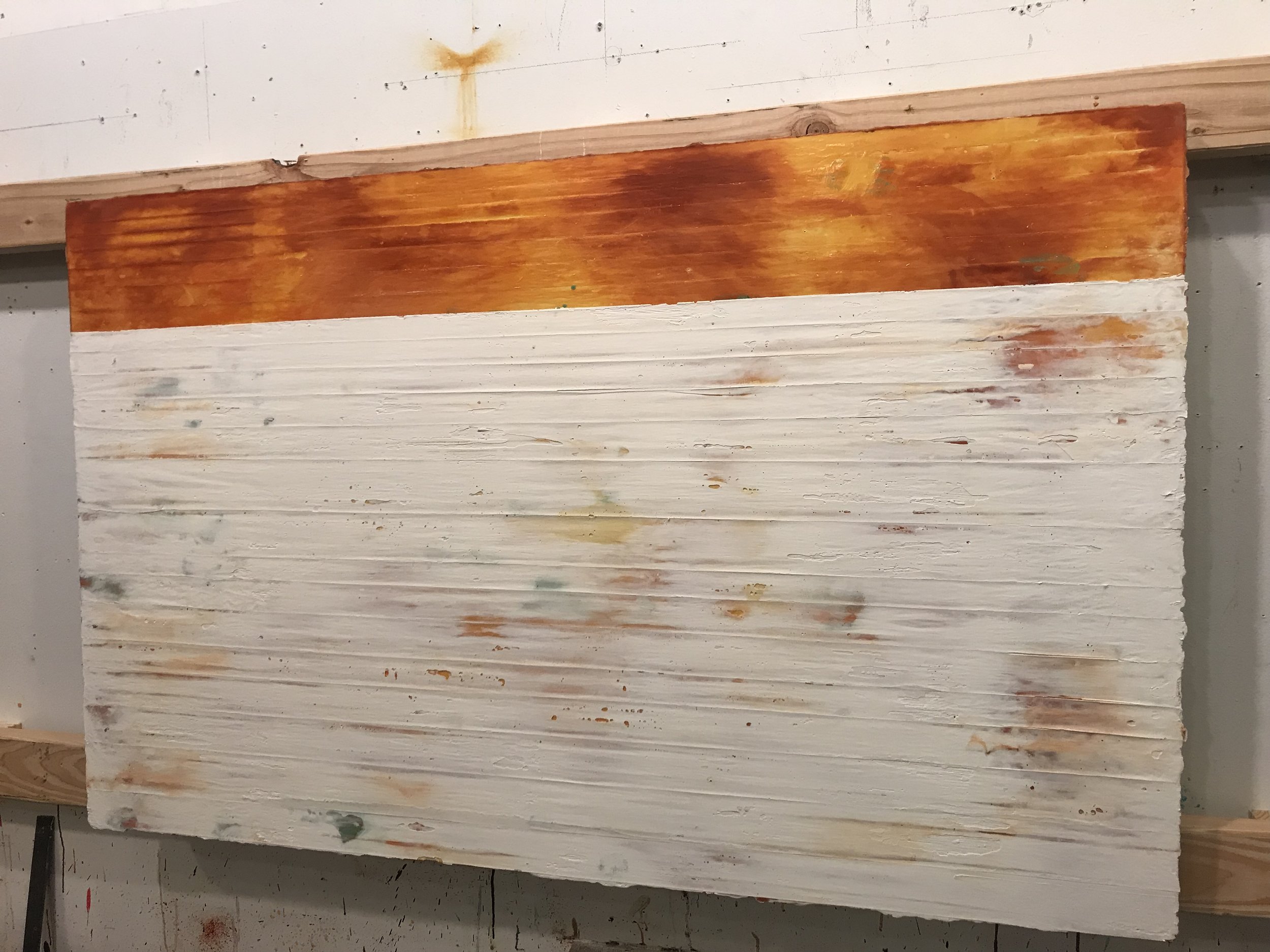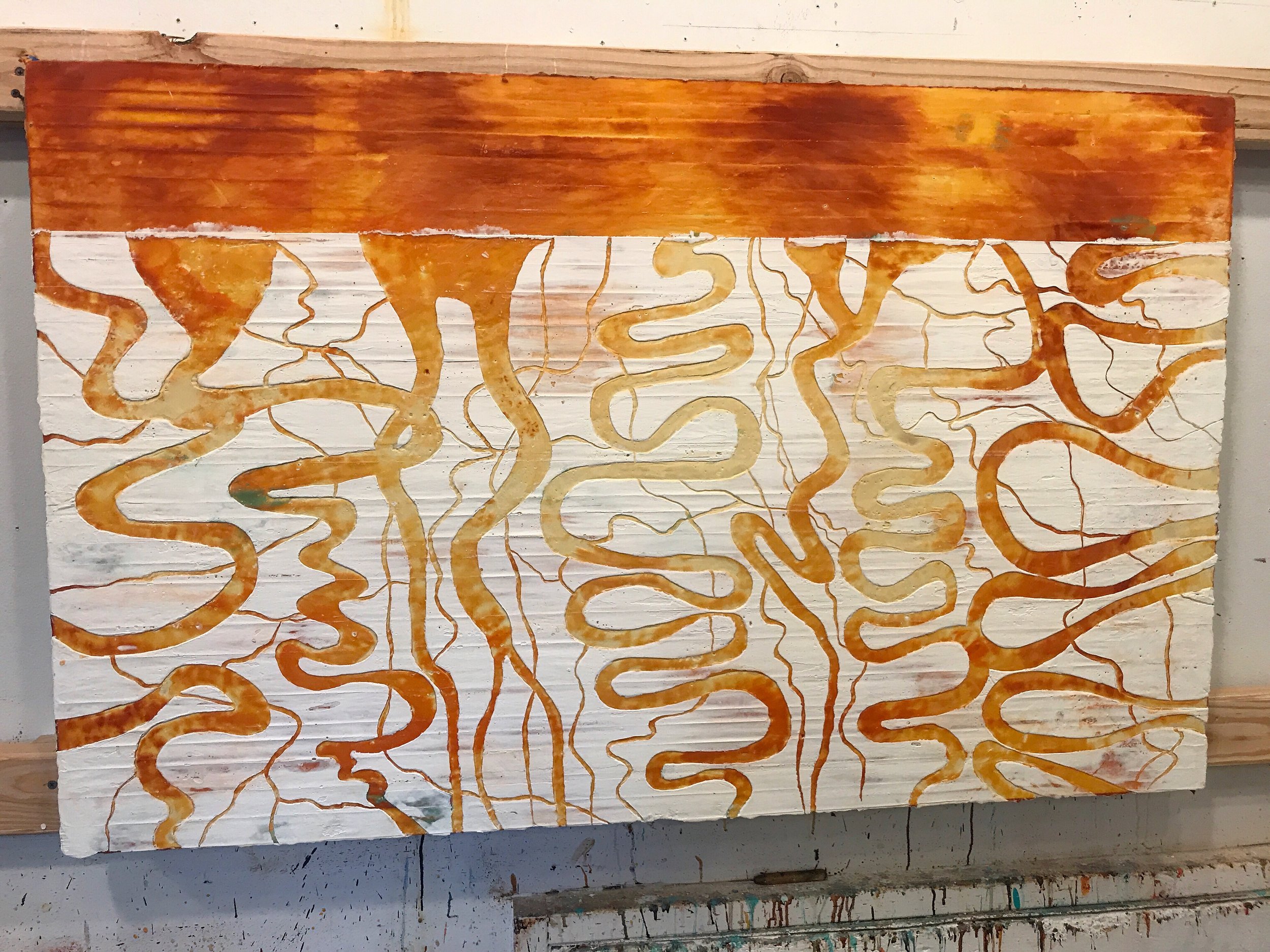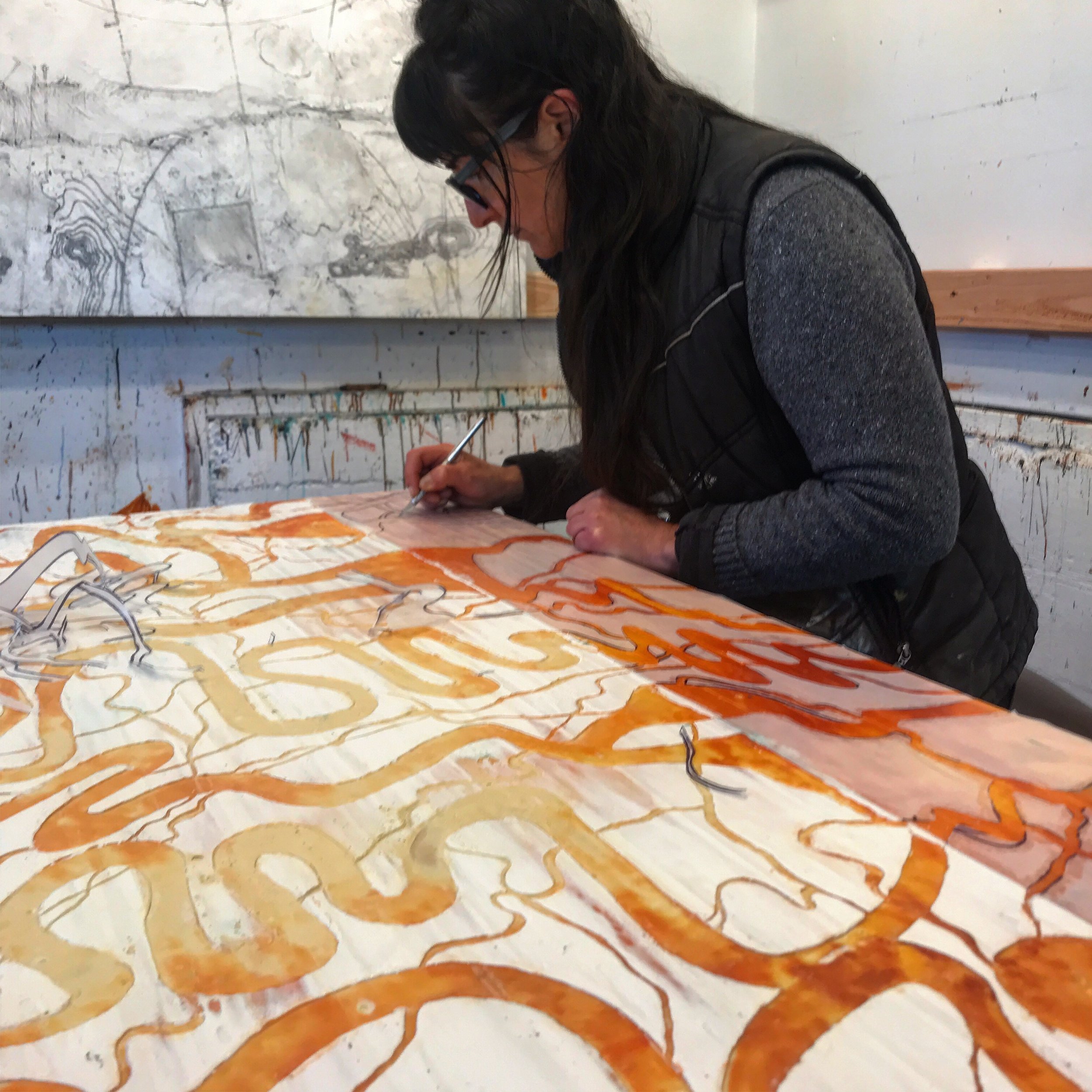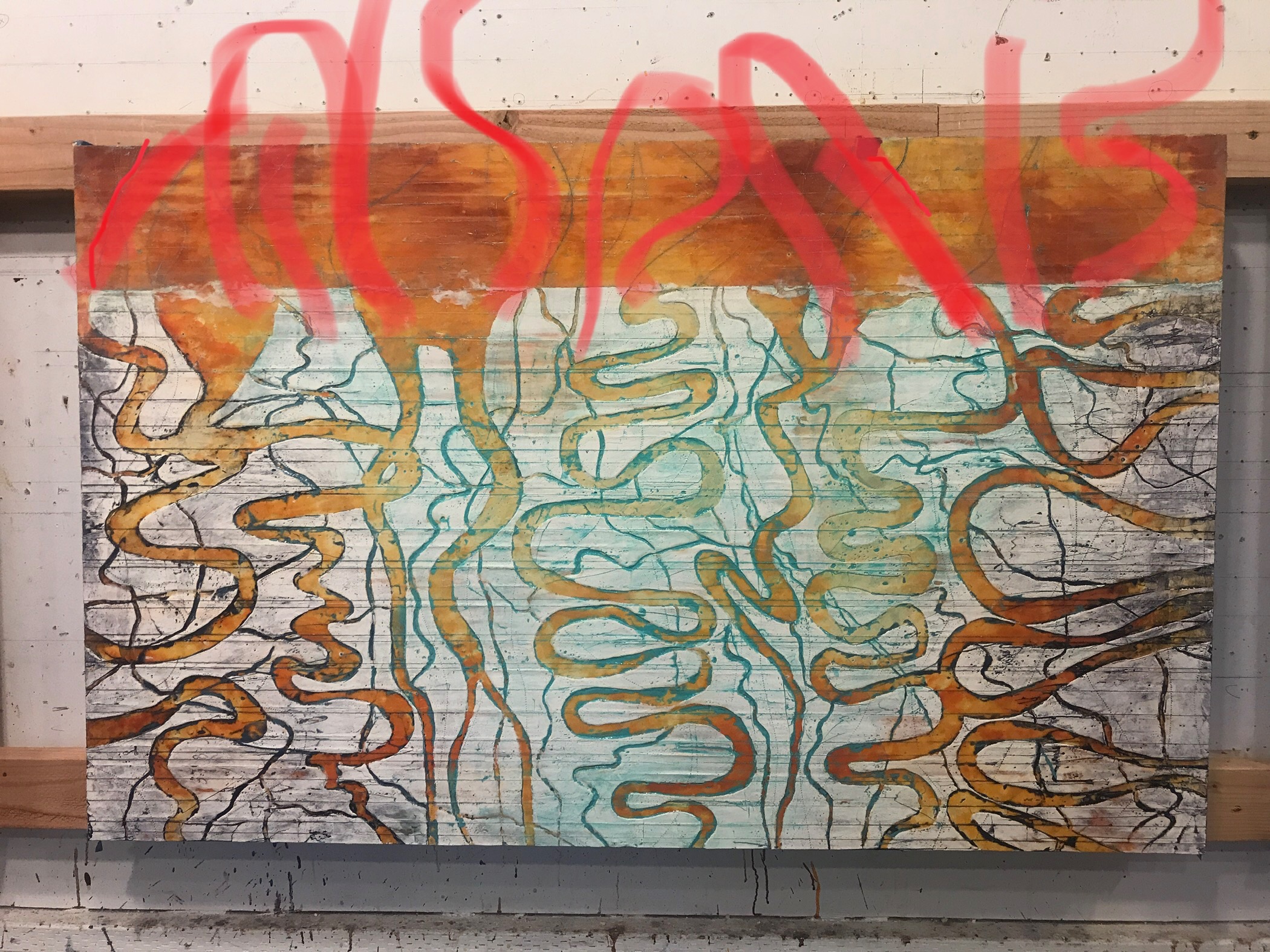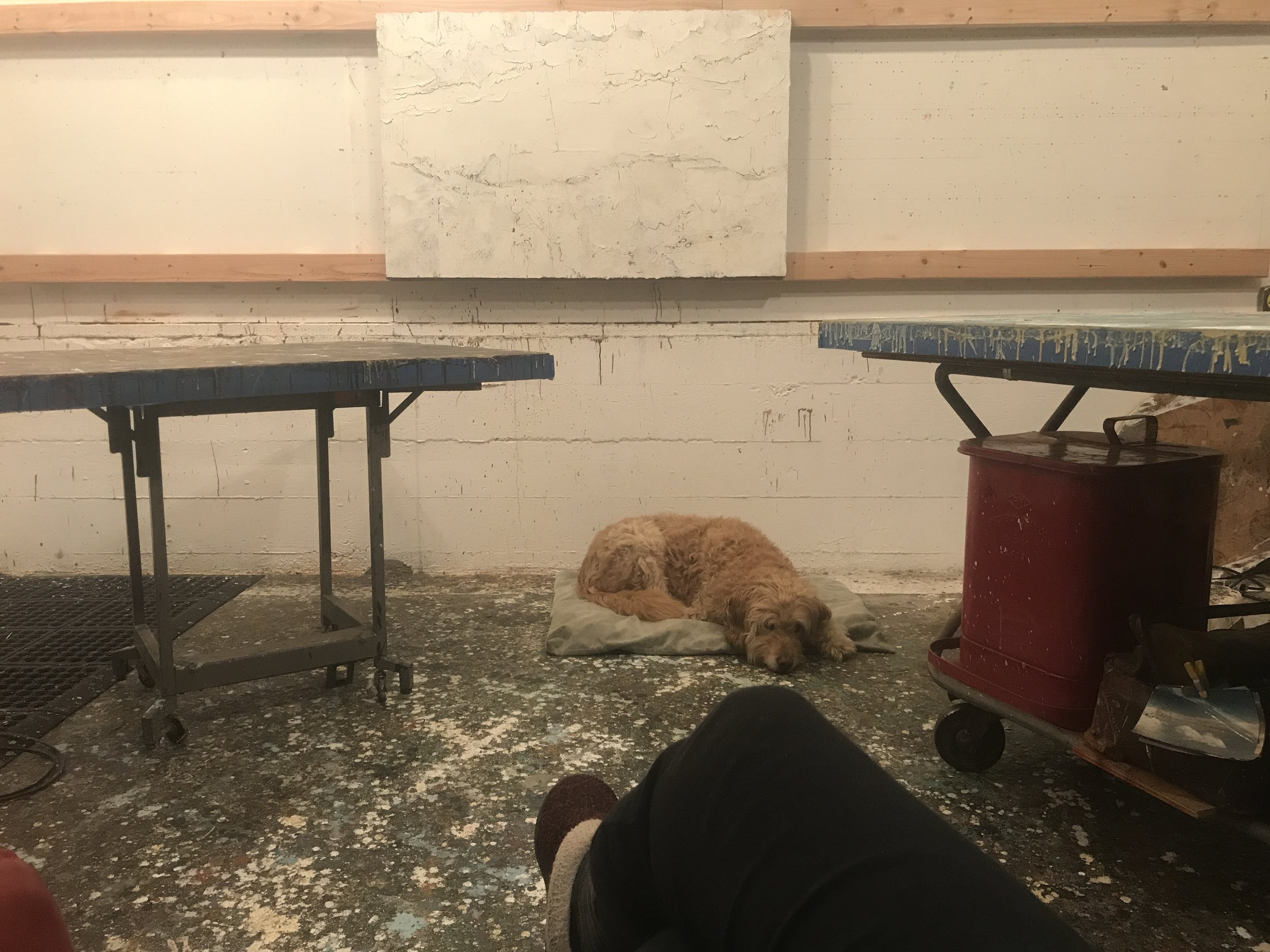 Thanks so much to the support of my community who made donations for Cleo's care through purchasing my work and sending essential goodies from Cleo's Amazon list. This added support made everything possible and less overwhelming giving me the green light to concentrate on what was on the immediate horizon. Thank you so much!
Cleo is doing really well on her raw food diet and combined medication and supplements. I know she will tell me when her time is. We are adjusting to our new feeding routine. Her energy is up most of the time but some days, our walks are slower than others. I watch her every move and know when her legs are hurting and give her CBD oil before and after every walk. As long as she's eating and drinking, happily looks forward to going on our walks and greeting our visitors with love and hugs, that is all that matters. Here are a few pics from our lovely trip to the coast, we may even make another! She will be 13 on May 10th.
Thank you for reading my blog, I always love hearing from you so, please feel free to leave a comment below.