As 2018 comes to a close, it saw for me an increase in commission opportunities. Not all artists enjoy doing commissions. One can find them limiting and confined to a certain agenda, like, wanting something to match the couch for instance. I approach commissions as an opportunity and challenge to revisit and explore aspects of my work worth revisiting.
This past Summer, American Airlines Captain, Jeffrey A., wandered into Frederick Holmes & Company in Seattle and discovered my work. He was looking for just the right piece of art representative of his passion and interests that would finish a room in his new house. This became an opportunity for a commission that turned out to be more collaborative in nature than usual.
Initially, Jeffrey wanted to load the below encaustic piece, Apex II, 24" x 70" onto his jetliner at SeaTac and take it home to North Carolina right then and there but, it was unfortunately too wide for the space he had in mind for it above his fireplace. So, through my gallery, I proposed that I do a 30" x 48" commission. While it is impossible for an artist to make the same piece twice, I still had the colors and remembered how I made it along with a high resolution photo that I could draw upon for inspiration.
The whole "above the fireplace" requirement is often the moment that can be a deal breaker for other artists. However, I enjoy doing commissions, especially when a meaningful connection is made by the client with my work.

A contract was created by Frederick Holmes that determined scale, price, timeline, framing, photography and delivery of the piece.
Collaboration
Through his shared pictures of the sunsets from the perspective of the cockpit, and passages from a book he is writing about exploration, I realized there was potential for a collaboration with Jeffrey in relation to both of our work. A whole room in Jeffrey's house is dedicated to the topic of maps and exploration and he wanted a piece of mine as its centerpiece. I was inspired and very flattered.
The color pallette for Clearing, was initially inspired by the above photographs that Jeffrey took from the cockpit. I mixed all of the colors in the piece. All vary slightly in the amount of pigment in the wax to allow for veils of depth in color.
Game On
The greatest challenge for me was the timeline of one month to complete the commission. I was leaving for a three week teaching trip in early September and had to complete the piece, have it photographed, a frame and shipping crate made for it and shipped before I left.
A lot of attention was paid to palette preparation to get the colors just right. The photo above shows my pigmented waxes I selected to use for the piece. They are all different levels of transparency and mixed with beeswax medium.
Once the scale for the commission was determined, instead of one, I had five panels made. This allows for a series to develop after completing the commission.
Slideshow - The making of "Clearing".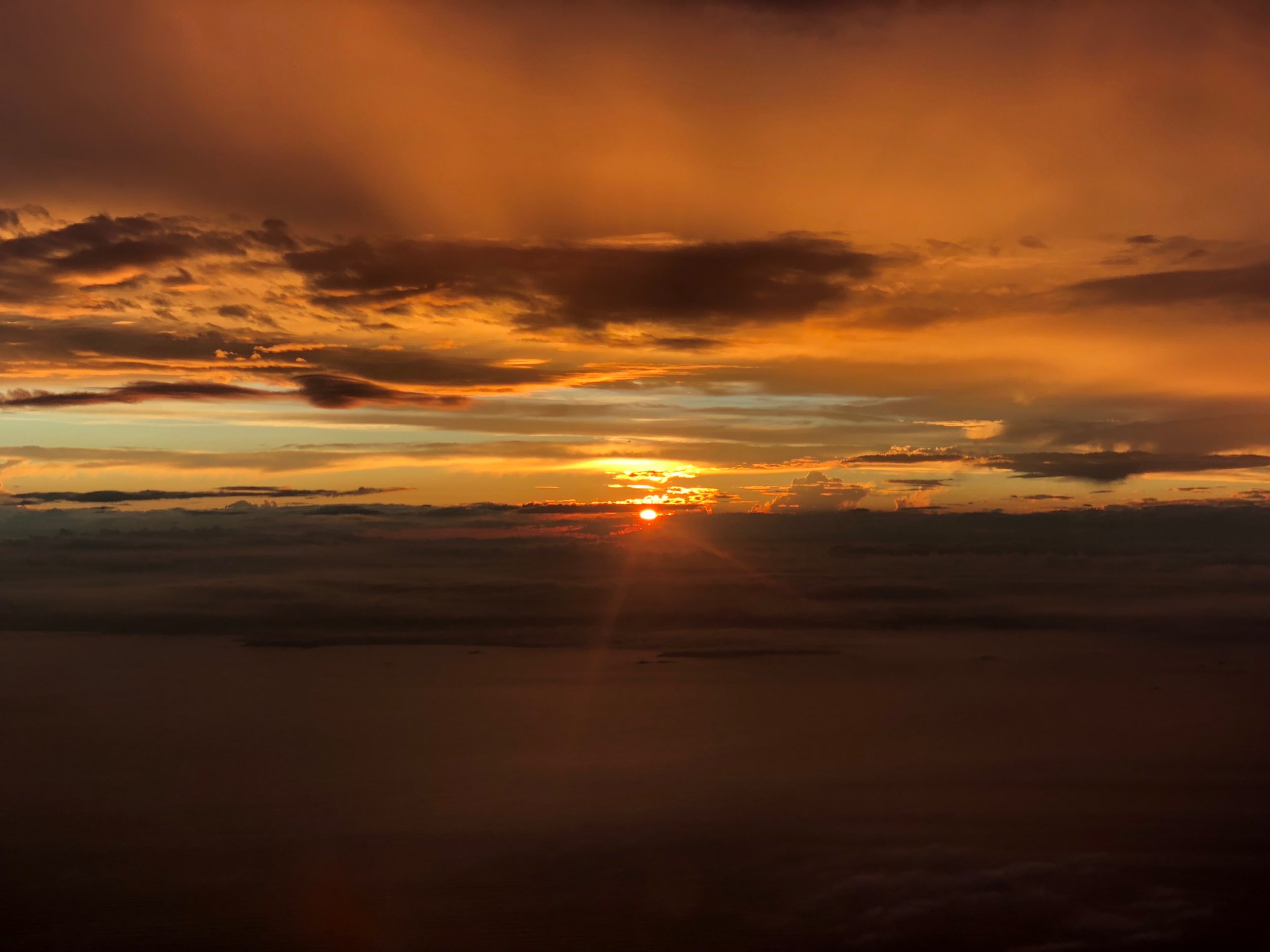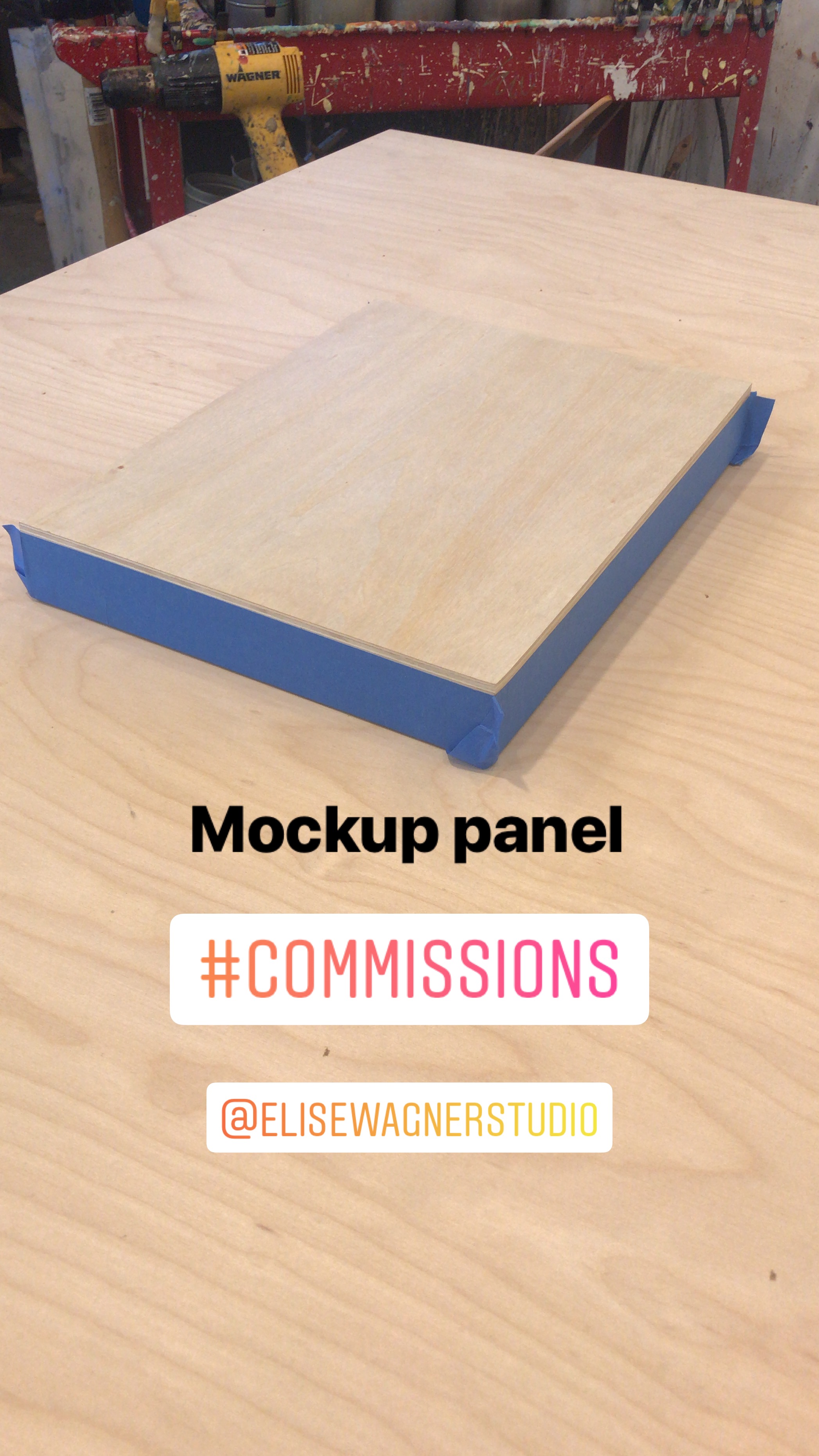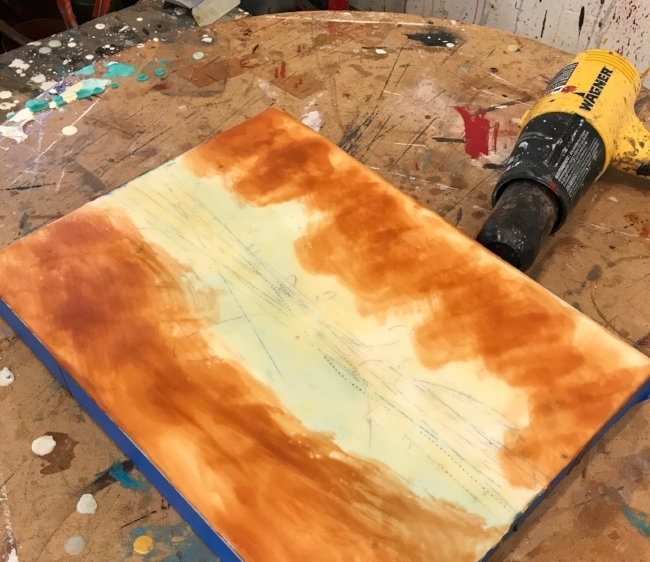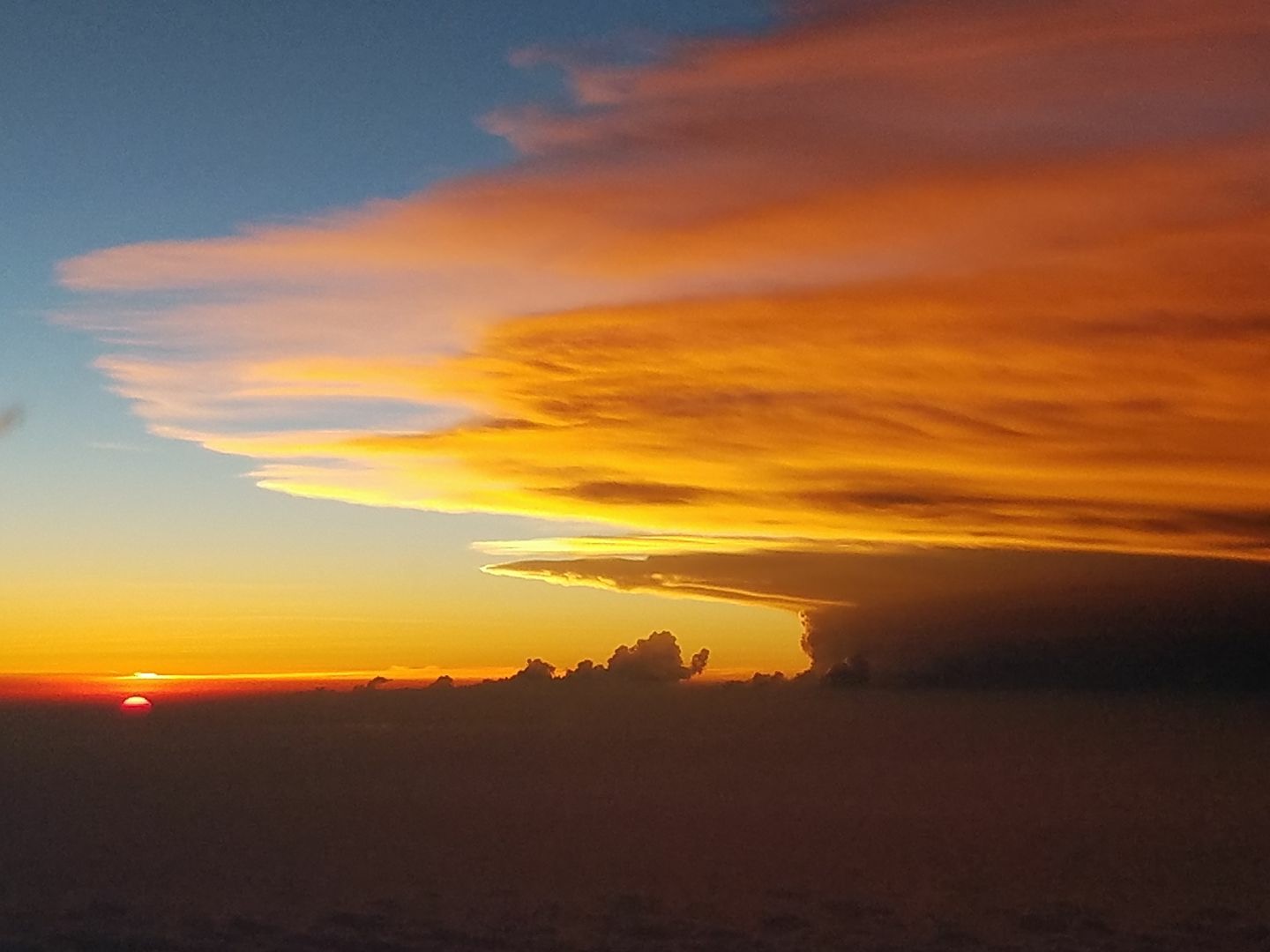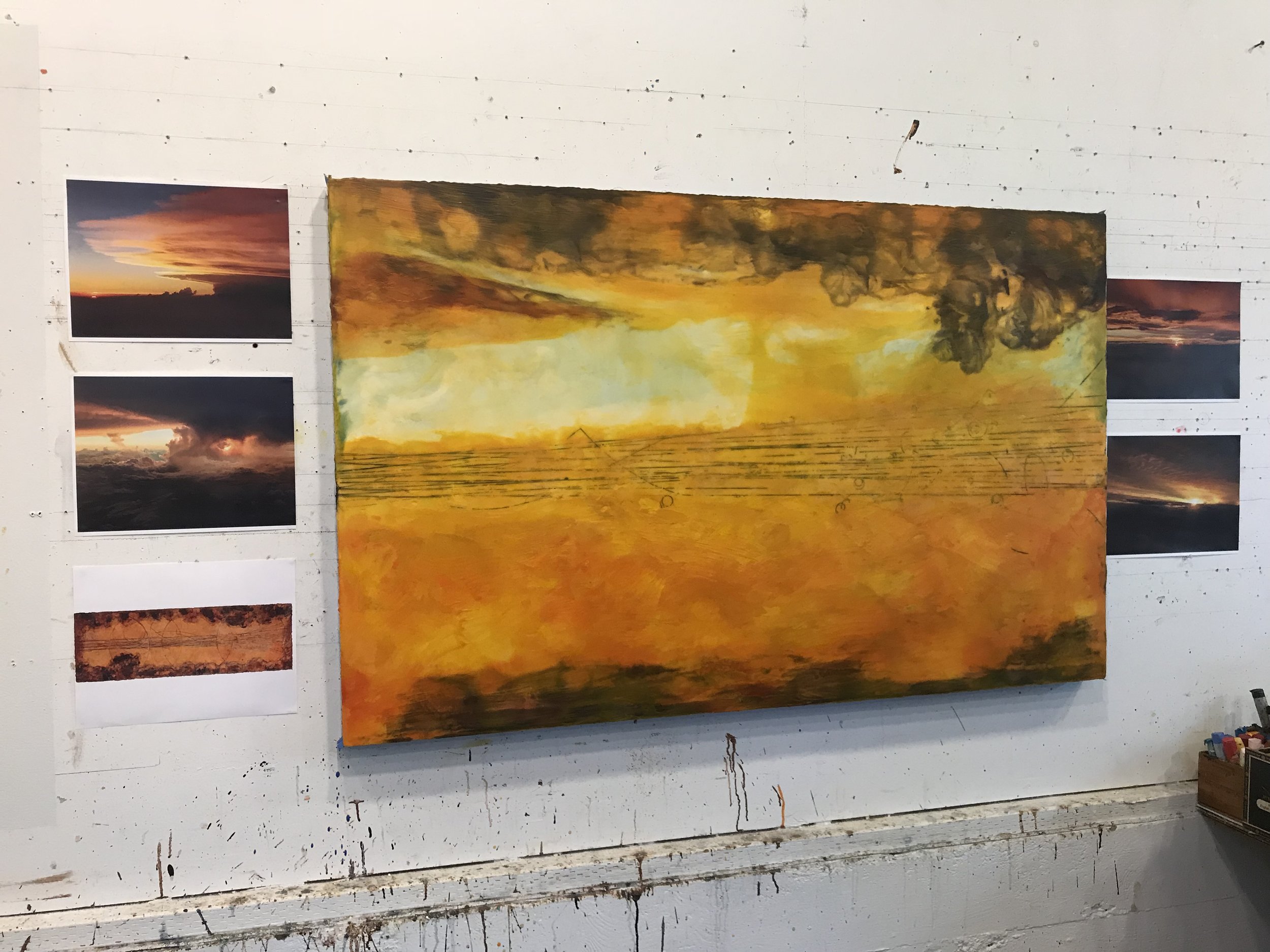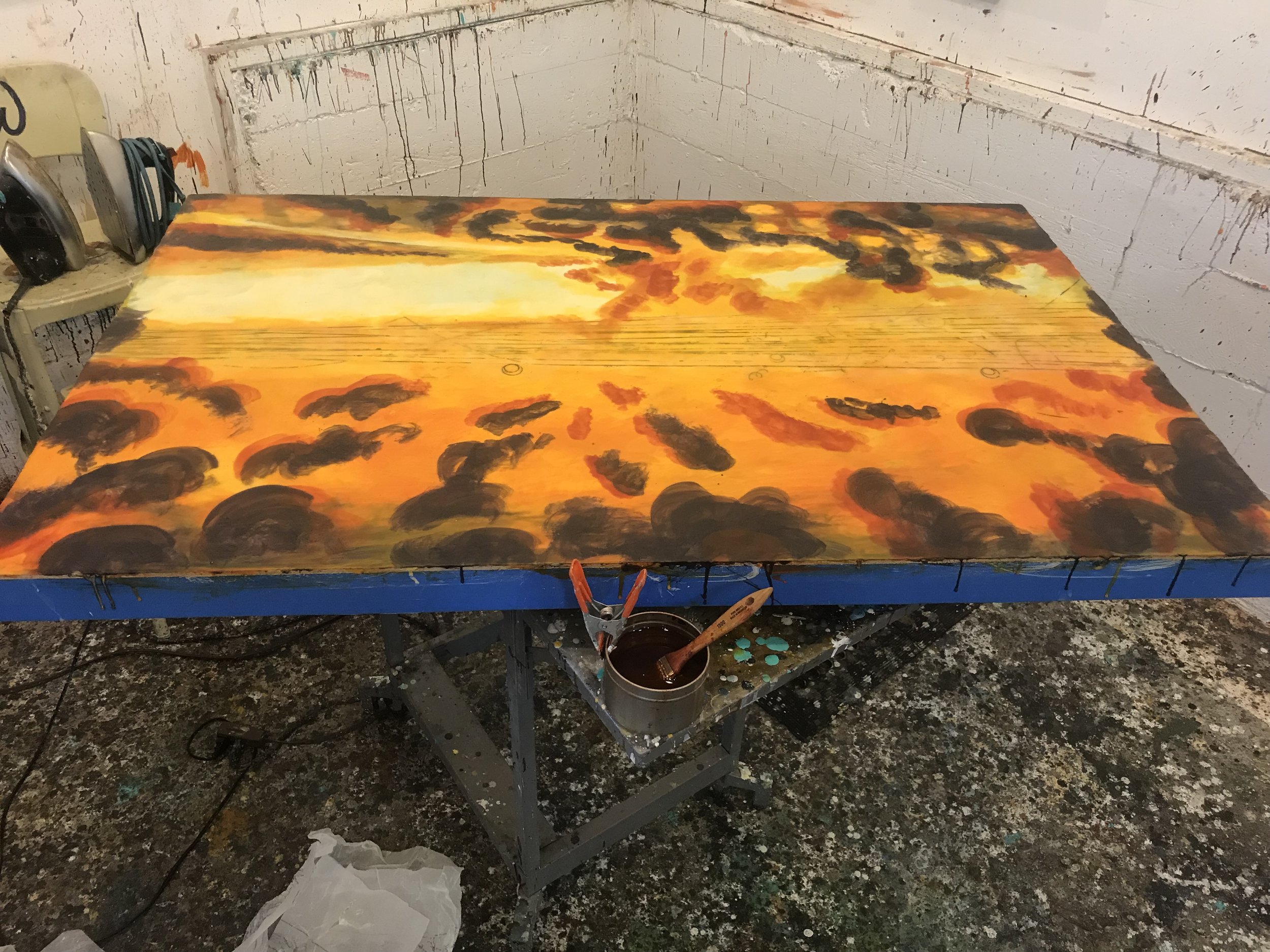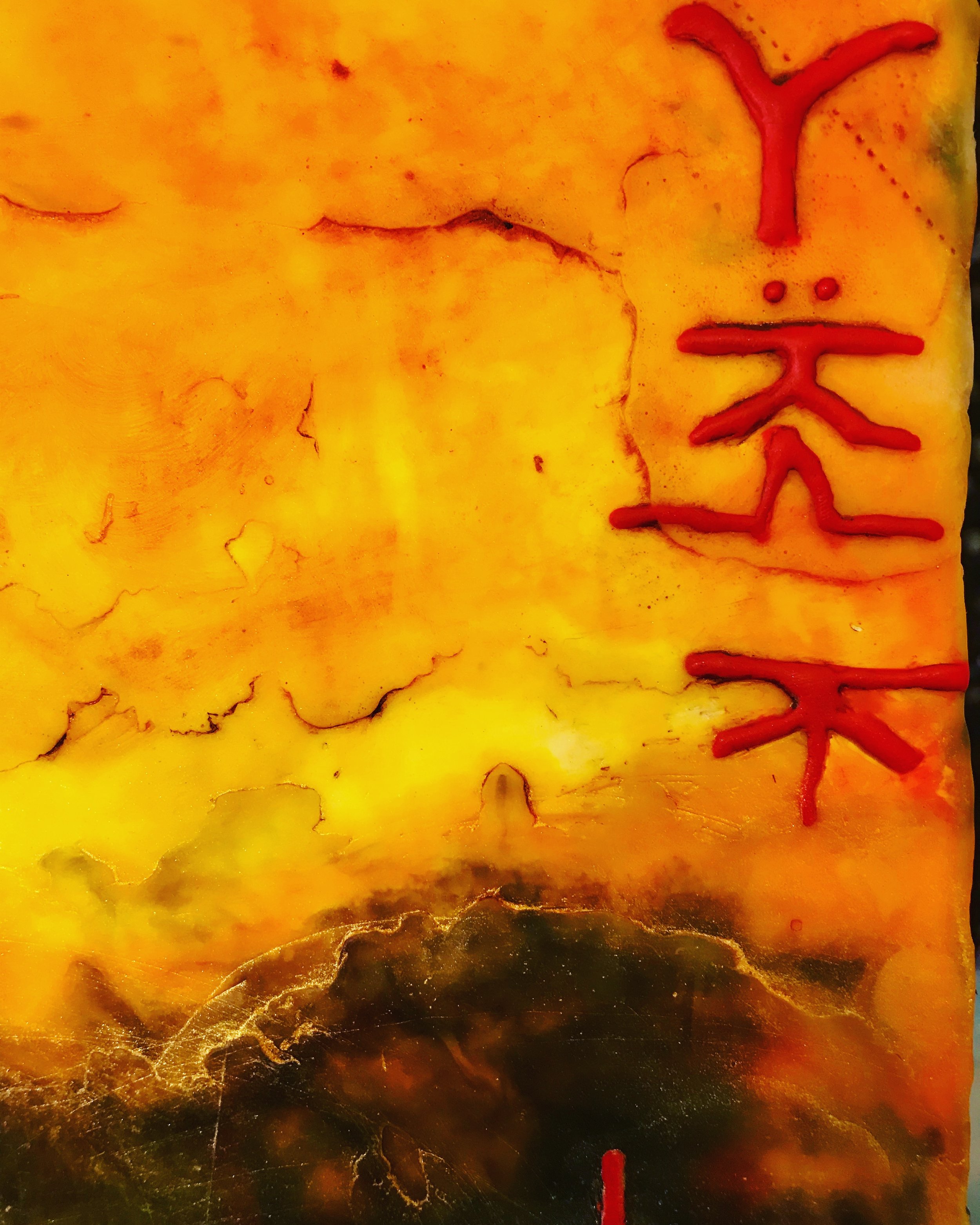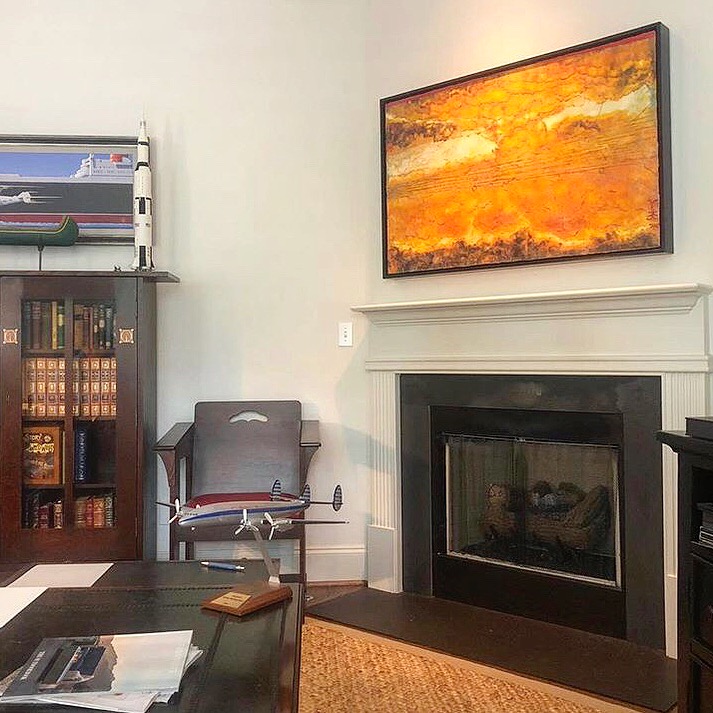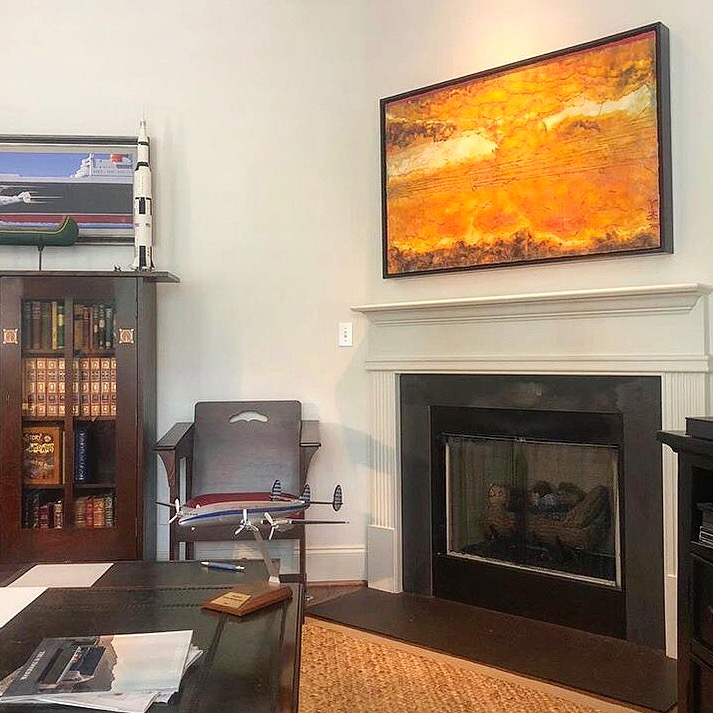 Once the painting shipped, there was some nail biting involved as hurricane Florence was quickly heading right towards North Carolina! This is just my luck! The very moment the piece ships, it is into the eye of a hurricane!
Fortunately, the piece arrived safely and Jeffrey sent a picture of it in its new home.
This is what Jeffrey had to say upon opening the crate when it arrived.
To Elise: Ecclesiastics says God has placed eternity in our hearts. This is what I see when I look at your art. My painting reflects an inner expression in you from above. You might see science and math but your work goes well beyond that. It displays the author of all that. Personally I see God. I love the symbols of our journey and its course and I will communicate that to every listening ear. I promise to delineate correctly your research... I see it exactly the same way. You have to live long enough to understand what your saying, especially the turbulence of life. I like what CS Lewis once said "why are the dark places holy place. My wife has asked if you would write a few words concerning your inspiration for this work so we could read it to our friends. One more thought about turbulence. I had a flight the other night from Miami to Denver and the weather was epic. The storms (which pushed us 100's of miles into the gulf) had my heart in my throat and because it was evening the only visual we had was during the lightning and it was dangerous yet beautiful beyond description. I thought I was in one of your paintings. I felt alive.
Reading Jeffrey's words initially rendered me speechless and far exceeded my hope that he and his wife Dana would like the painting. All in all, it was a wonderful experience. At his wife Dana's request, I wrote a bit about what inspired the piece and how it was made.
Words concerning the creation of "Clearing"
My inspiration for this piece derives from a fascination with the revelations in science that few of us can see, or fully comprehend. In my work, I enjoy exploring the subjectivity of perception and the unpredictability at play in all systems. I work in the ancient medium of encaustic painting, which combines natural beeswax, resin and pigment. The translucency, malleability, and durability, yet fragility of this medium allows me to create greater levels of depth and atmosphere. I rely on chance occurrences in my materials to imply both chaos and order. I always push the boundaries of my chosen medium in an attempt to bring the beauty and wonder of nature into focus with the unknown, the celestial and the sublime.
The color palette in Clearing was initially inspired by the photographs that Jeffrey took as a base to integrate the linear constructs representative of particle movement and vapor trails. All vary slightly in the amount of pigment to allow for the veils of depth and rich color that you see throughout. My work often has an element of mapping, symbolism and cartography within it. I have a hunch that this is why Jeffrey so loved my work.
In creating this piece for an aviator, explorer and commercial pilot, I decided to draw upon specific symbols for the piece that personally reflect his love of flying and exploring the globe. The three symbols you see in the lower right of the piece from the top stand for: life's path, proceed and moderate turbulence.
Thank you for reading my blog. Please feel free to read the wonderful comments below and leave a comment yourself. And, if you would like to learn more about working with me for your own commissioned painting, drop me a line.